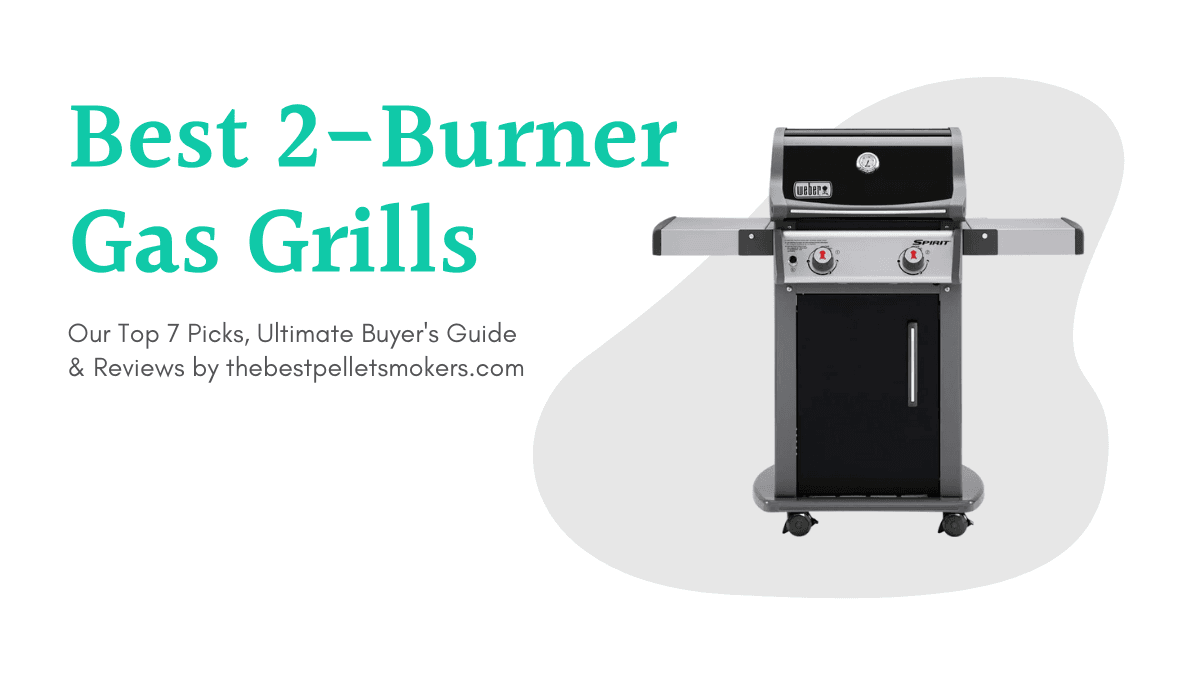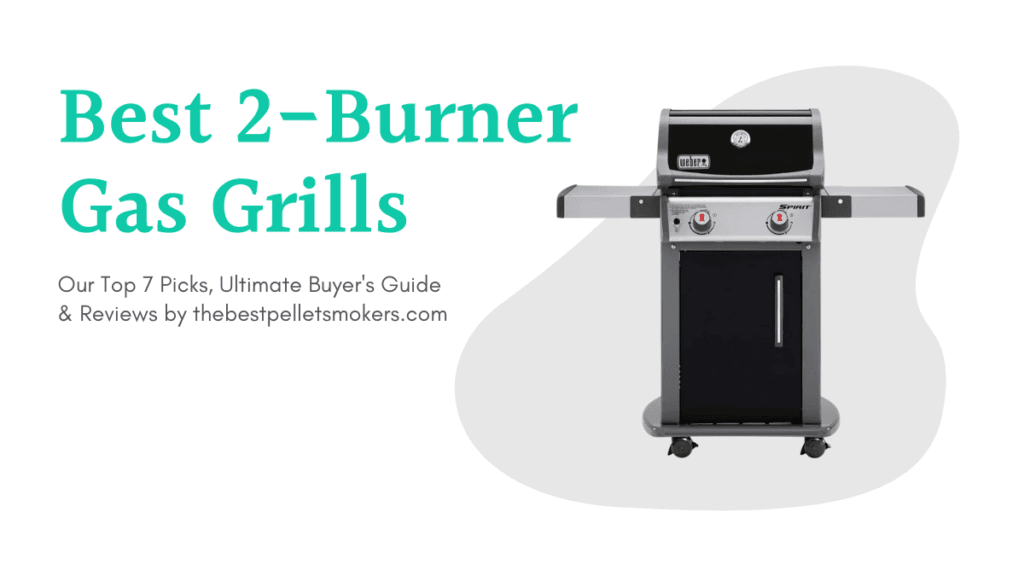 Every BBQ lover admires the convenience and ease of use offered by gas grills. In particular, a 2-burner gas grill is extremely useful, as it offers a variety of notable features at a compact size. However, choosing one of the best 2-burner gas grills is not as easy as one might think.
When compared to charcoal grills, gas grills provide many advantages. They are extremely easy to assemble. Cleaning and maintaining the devices is not as difficult as with charcoal ones. In addition, temperature control and heat buildup are pretty impressive in gas grills.
Therefore, we have decided to make a list of the best 2-burner gas grills available on the market. We have reviewed them after analyzing multiple factors such as cooking capacity, longevity, ease of use and maintenance, price tags, user reviews, and operational efficiency. You may select the one that appropriately satisfies your needs.
Best 2-Burner Gas Grills
In a hurry? Have a look at the comparison table for a quick overview of all the products that we are going to review in this article.
| Image | Product | Feature | Price |
| --- | --- | --- | --- |
| Top Pick | Weber 46110001 Spirit E-210 Gas Grill | Easy to clean, Highly durable, Reduced weight | Check Price |
| | Char-Broil 463673519 2-Burner Cabinet | 24000 BTU capacity, Cooking space of 300+100 sq inches, Foldable side shelves for enhanced convenience | Check Price |
| | Monument Grills 14633 2-Burner | Consistent flavor due to even distribution of heat, 473 sq inches total cooking space, Usable under low light conditions | Check Price |
| | Blackstone Flat Top 2-burner Gas Grill | Offers bang for the buck, Enhanced convenience, Multiple storage options | Check Price |
| | Weber 57060001 Q3200 Liquid Propane Grill | Uniformity of heat, Perfect size to cooking area ratio, Designed ergonomically for searing | Check Price |
| | Cuisinart CGG-306 Chef's Tabletop Grill | Inexpensive, 20 000 BTU heating capacity, Perfect tabletop grill | Check Price |
| | Giantex Propane Two-Burner BBQ Grill | Suitable for hot dogs and burgers, Reduced fuel consumption, High-quality stainless steel body | Check Price |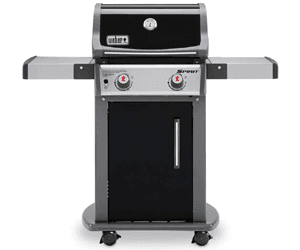 The first on our list is the top-notch burner from the Best Weber Grills that outperforms every other on the list in terms of performance and operational efficiency. It features heavy-duty construction that resists rust and corrosion. Moreover, the availability of an excellent grease management system facilitates easy cleaning and maintenance.
Spirit E-210 features caster wheels for easy mobility and hassle-free access. With 450 square inches of cooking space and a weight of only 20 pounds, it offers a lot of conveniences. All in all, it is a great solution for providing a customer-oriented grilling experience.
Durability
Weber uses a high-end porcelain-enameled lid for rendering performance and relentless efficiency. The gas grill is equipped with top-class material that meets users' expectations in terms of reliability and dependable cooking experience.  
The problem with many two-burner gas grills is that they fall prey to rust and corrosion over the years. Excessive use and inferior-quality material in the production cause such inefficiency in those grills. However, that is not the case with this champ from Weber. With its design and build quality, the device is corrosion-resistant and long-lasting.
Grease Management System
A highly efficient grease management system on the grill ensures maximum satisfaction of users regarding cleaning and maintenance. You do not have to worry about excessive sticky grease on grates as the design of the device helps you sort things out.
Firstly, it reduces grease production due to the management system and grates' design. Secondly, cleaning up the grill also becomes a breeze due to the grease-fighting design. We also like the presence of specific hooks for tools that aid chefs in multitasking and making their tasks easier.
Portability
With many features that make it one of the most popular portable two-burner gas grills available today, the Spirit E-210 comes highly recommended. More specifically, we find it pertinent to mention two aspects of the grill that make it stand out from the competitors.
Reduced weight is the first thing that helps this grill offer exceptional mobility. Being a lightweight device does not mean it compromises necessary features. Instead, it contains all the things that one can expect from a top-class grill. The presence of ergonomic caster wheels also enhances its desirability as a portable machine.
Also Reviewed: Top 15 Best Pellet Smokers of 2024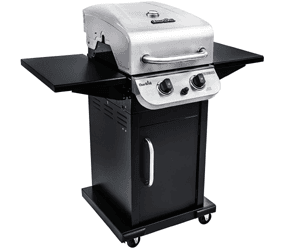 This 2-burner cabinet from Char-Broil is the runner-up in our list of the best 2-burner gas grills. The device offers a heating capacity of 24000 BTU with a total cooking space of 300 square inches. You can also utilize an additional space of 100 square inches with the help of a retractable rack. The device is lighter than its predecessor, as it weighs only 82 pounds.
The presence of things such as a highly advanced temperature control mechanism, high-end steel lid, foldable side shelves, and easy startup due to electronic ignition makes it stand out. You will also love ergonomically designed storage shelves that can help you store necessary things, including propane and other necessary tools.
Temperature Control Mechanism
Conventional cooking systems often fail to provide a dependable temperature control mechanism. However, the opposite is true for this beast from Char-Broil. The most significant feature of this gas grill is the availability of a modern temperature control mechanism that helps users in many ways.
The temperature thermometer helps you monitor and control the temperature of the grill. As a result, you can cook a variety of dishes without compromising the consistency and reliability of the taste. Moreover, the use of heavy-gauge stainless steel aids users in maintaining a reliable temperature control inside the grill.
Impressive Design
Every aspect of this grill displays the excellence of design, from folding shelves to highly efficient electronic ignition. The grill also features a spacious storage cabinet that is perfect for things like propane tanks and other kitchen gadgets. Not only that, but you can also store plenty of cooking materials if you know how to use storage spaces effectively.
High-quality side shelves are convenient for chefs during extended cooking. They can quickly access cooking materials on these shelves, saving a great deal of time. However, not everyone finds them convenient during light use. In that case, users can fold them if they don't need them.
Stability
In many inferior-quality models, there is no mechanism to ensure that the grill can sustain extensive usage by providing the necessary stability. The wheels on those models cause them to shake continuously. So chefs often have difficulty obtaining the taste and control they desire.
However, the opposite is true for this giant from Char-Broil. It features lockable caster wheels that allow users to maintain the required stability. Users can easily lock a couple of wheels at the bottom to prevent shaking and undesired mobility. Consequently, operating the device becomes super easy and straightforward.
Read Also: How to Light Char-Broil Portable Gas Grill?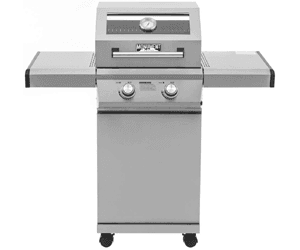 The monument grill comes with a primary cooking space of 326 sq inches with an additional 147 sq inches of secondary warming rack. Like the previous one, it also offers a BTU capacity of 24,000 for reliable heating efficiency. There is an excellent combination of stainless steel and cast iron body throughout the grill for a reliable grilling experience. 
The availability of enameled flame tamers facilitates the equal distribution of heat throughout the grill for better efficiency and cooking reliability. It also includes a small LED wand that helps users monitor things in a better way. Moreover, you will love the responsiveness it shows for temperature adjustments.
Equal Heat Distribution
One of the most important things that help chefs maintain the consistency of temperature and tenderness of the meat is heat distribution. There is no use buying a gas grill that fails to provide a consistent taste and desired meat tenderness. However, that is not the case with this one from Monument.
The availability of enameled flame tamers ensures users enjoy an equal distribution of heat throughout the grill. As a result, you will not have any issues with the consistency and reliability of the taste and flavor of cooked dishes on this grill. However, you need to have a perfect knowledge of things to get the most out of them.
Generous Cooking Space
This 2-burner gas grill contains a total cooking surface of 473 sq inches. It includes 326 square inches of primary and 147 square inches of supplementary space. More specifically, this much cooking space is enough for cooking multiple ribs, burgers, turkeys, and many other things. 
The total cooking space of the grill is sufficient for the entire family, regardless of the number of members in the family. However, we would not recommend it for parties and other weekend adventures. For them, you should opt for a larger cooking space. For parties, anywhere from 600 to 800 square inches of cooking space is sufficient.
Responsiveness
Adjustability or responsiveness to temperature changes is what makes this Monument grill stand out. Unlike many others on the market, we find this grill quicker in responding to adjustments made by users. It gets to the required set temperature within seconds. This high responsiveness comes from porcelain coating and stainless steel burners.
The available LED wand enables users to utilize the grill under low light conditions at night. You can easily tilt it over to monitor what's going on inside the grill. Regardless of the conditions of light, you would be able to prepare the steaks as usual.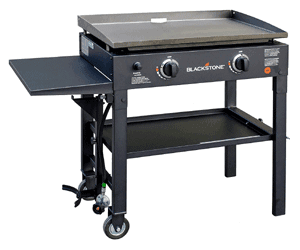 Blackstone gas grill makes the perfect choice for people who are looking for high value for money. Being a cost-effective item does not mean you will not get the quality you want to have. Instead, it offers all the features and specifications of a world-class 2-burner gas grill at a very competitive price tag.
The total cooking area on this Flat Top Grill is approximately 470 sq inches. There are also a couple of side shelves and a lowered one for easy storage of food and other tools used in cooking. The overall design and operational efficiency of the grill makes this device easy to handle and use for extensive cooking. All in all, it offers a comprehensive list of features at a reasonable price tag.
Accessibility
The availability of plenty of storage shelves enhances the accessibility of the grill in many ways. Most importantly, you will find two side shelves and another one at the bottom for easy access. In this way, you can access cooked food and related equipment within no time if you want to use them further.
When it comes to ease of use and assembly, Blackstone sets the standard. There are plenty of advanced features in the design that enhance its capacity for ease of use. In addition, it offers a removable griddle top, foldable legs, and top-class wheels for greater convenience for users.
Push Button Ignition
Newbies often have difficulty dealing with griddles' complex startup process. In some cases, they return the item only because the grill is too difficult to start. However, the opposite is true for this classy grill from Blackstone.
It includes a battery-powered ignition system that eliminates every potential hassle. This type of ignition mechanism works with the push of a button. You only have to press the start button once to get things started for you. Within seconds, you will have your grill ready for the job.
Removable Griddle Top
Another thing that enhances the desirability of the Blackstone gas grill is its impressive design and commendable overall layout. It contains multiple premium features such as a removable grid top, foldable legs, high-end caster wheels, and a steeled cooktop. 
The removable griddle top facilitates users in moving the grill from one place to the other. Combined with foldable legs, it can be quickly transported to any campsite. In addition, the black powder-coated exterior increases its sturdiness and durability for easy usage in multiple working conditions.
Also Reviewed: Best Pit Boss Pellet Smoker of 2024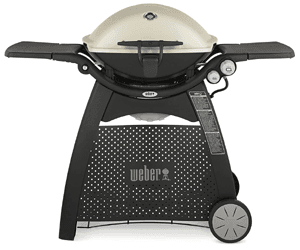 Q3200 is one of the best 2-burner gas grills available on the market. It has a heating capacity of approximately 21700 BTU. The total cooking area on the grill is over 460 sq inches, making it suitable for a medium-sized family of 4 to 5 members. You can grill a variety of steaks, turkeys, fish, burgers, and many other things.
One thing we liked about this item is its straightforward assembly. There are multiple guidelines on how to put everything together in this model. More specifically, you can consult the "BILT" app for seamless assembly of the grill. 
Perfect for Searing
A highly efficient porcelain top coupled with top-notch heat uniformity translates into a perfect 2-burner grill for searing. The top of the grill helps keep the heat inside without wasting it. Additionally, the cast iron lid also helps in maintaining equal levels of intense heat throughout the grill. As a result, we have a device that is perfect for searing.
When it comes to fighting undesired flare-ups, there is nothing better than a Weber grill. The overall design of the grill ensures optimized processing of heat throughout the grill. As a result, you will not see any flare-ups on this model. However, if you do not know how to operate the device, you might end up causing frequent heat problems.  
Excellent Size to Grilling Area Ratio
Q3200 from Weber provides a total cooking space of more than 460 sq inches within a compact size. It is quite unusual to see such an impeccable size-to-cooking area ratio. In other words, it means you will have plenty of cooking space without the additional burden of excessive size or dimensions of the grill.
Another great thing about this grill is its design on the bottom part. The designers have paid detailed attention to every aspect of customer satisfaction. That is why you will notice an excellently designed bottom that facilitates the streamlined discharge of meat juice and grease into the drip pan. As a result, the BBQ is more hygienic when it is cooking. 
Easy Assembly
Many people often avoid buying a BBQ gas grill because it requires lots of patience and professional knowledge to assemble some devices. The quality of the instructions and the build quality also affect how long it takes to assemble a grill. However, you do not have to worry about the assembly process at all if you are considering buying this one from Weber.
The company provides easy-to-follow, straightforward instructions to help buyers set up the grill in the first go. The instructions are pretty simple and do not include any complex directions. Moreover, the way several of the smaller parts are made and packaged makes them easier to handle and easier to assemble.
Also Reviewed: Best Camp Chef Pellet Grills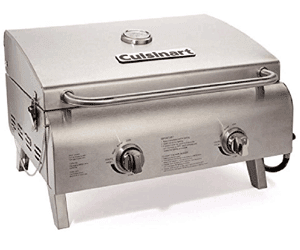 Cuisinart gas grill is another stunning product that offers a collective heating capacity of approximately 20,000 BTU on both burners. It features a highly advanced electronic ignition system that helps users in a quicker startup. Additionally, you'll notice how the control knobs are effective at regulating heat throughout the grill. 
The overall design and working capacity of this gas grill from Cuisinart makes it one of the best 2-burner gas grills for professionals looking for serious grilling. You can easily get up to 600 degrees within 10 minutes. You will also love the accuracy and precise measurement of the built-in thermometer on this device that helps you deliver consistent results.
Suitable for Serious Grilling
Cuisinart's gas grill features exceptional build quality that makes it a highly suitable product for serious grilling. Everything from heating capacity to temperature control and ease of use to top-notch portability makes this device stand out from the rest of its competitors. All in all, it is one of the reliable devices for outdoor roasting and smoking.
Relentless Temperature Management
Its ability to regulate temperature efficiently makes it a standout gas grill from Cuisinart. The timing is important when it comes to portable cooking devices. An excellent portable grill heats up and cools down within minutes. Likewise, Cuisinart's grill reaches up to 600 degrees within ten minutes and cools down quickly.
As a result, it is the ideal choice for anyone planning a weekend picnic or beach party.
Perfect for Steaks
The problem with many compact grills is that they lack the essential grilling space required for steaks. Consequently, many people find it difficult to make steaks and other complicated meals. However, that is not the case with this one as it contains plenty of cooking space coupled with appropriate grilling features.
Moreover, the built-in temperature thermometer helps users in obtaining the desired level of tenderness and flavor.
Read Also: 6 Tips For Grilling Fish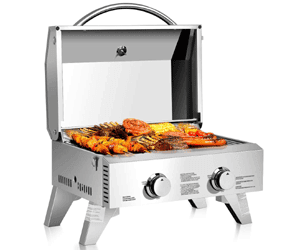 The last on our list is another compact, 2-burner gas grill from Giantex. It includes all the features of an outdoor grill at a very competitive price tag. Like the previous one, it also offers a heating capacity of 20,000 BTU. The availability of a foldable leg design and controlled lid enhances its desirability for many customer segments.
Perfect for Hot Dogs
In terms of portable grilling options, this Propane Gas Grill from Giantex is an ideal option for hot dogs, chicken, and burgers. It reaches 400 degrees within 5 minutes and offers plenty of temperature control during cooking. Heat distribution is amazing throughout the cooking space which lets you enjoy consistent cooking results.
Fuel Efficiency
One of the primary concerns of people buying an outdoor gas grill is fuel efficiency. Due to the limited availability of refilling resources on the outskirts, users look for a grill that offers tremendous efficiency. To that end, Giantex's gas grill is pretty reliable in terms of propane consumption and offers a satisfying user experience.
Based on the temperature settings and cooking experience, you can easily obtain anything between 7 and 10 grillings on a single cylinder of propane. In our opinion, this efficiency is sufficient, when you take into account the price and cooking capacity of the grill.
Also Reviewed: 8 Best Stainless Steel Grills in 2024
What To Consider Before Buying The Best 2-Burner Gas Grills?
Buying a gas burner requires considerable investment. That is why digging deeper into things is always a good idea to make the best decision. Requirements and individual circumstances of people vary from place to place. Consequently, you should give importance to the points that are relevant to your needs.
1. Cooking Area
The most important aspect of any gas grill is undoubtedly its cooking or grilling space. It directly influences what and how much you can cook on a particular grill. We have included a diversified list of grills with multiple cooking space options.
In general, many 2-burner gas grills provide a grilling space of nearly 500 sq inches. There are, however, some exceptions. A family consisting of 3 to 4 members will certainly go for a grill with a cooking space of about 300 to 350 s inches.
On the other hand, if you have a large family, you should consider more spacious cooking areas, such as 600 and 700 square inches.
In our opinion, Weber 57060001 Q3200 makes the perfect choice for a typical family of 4 to 5 members. It offers a cooking space of more than 450 sq inches with exceptional build quality and operational efficiency.
2. Heat Output
Another important thing that can help you decide the best 2-burner grill for you is the heat output capacity or BTU. Grills with a high output capacity are preferred by some, as they want the process to be completed quickly. However, the higher the BTU capacity, the higher the fuel consumption.
On the contrary, grills with lower BTU figures are less efficient in terms of quicker heat buildup. However, it does not affect their cooking efficiency. Indeed, they are more fuel-efficient than other products with a high BTU output. The only disadvantage is that you will have to spend a little more time cooking on a low-BTU grill. 
There is no rule of thumb in deciding what BTU figure makes the best choice. You need to put together several factors before making a choice. A higher BTU value does not always mean a better gas grill. That is why you should also consider other things when making a decision.
3. Portability
Two-burner gas grills are more popular because of their mobility. There are countless benefits to owning a 2-burner device. However, we think portability is the most obvious advantage of these grilling devices.
Most of these machines are designed for easy transportation due to their compact shape and ergonomic design. People also prefer them as a portable option due to their reduced weight. A two-burner gas grill is comparatively more lightweight than a three- or five-burner grill.
We have included multiple lightweight options on the list that are popular for outdoor camping and weekend BBQ parties. Weber 46110001, Cuisinart CGG-306, and Giantex Propane Two-Burner BBQ Grill are highly mobile grills due to their reduced weight and overall operational efficiency.
4. Price
Price also influences major decisions in life, as we tend to select things that are well within our range. In our opinion, all the items discussed on the list are quite affordable. However, some are more expensive than others.
Therefore, we have included products with multiple price ranges without sacrificing the standard of quality and cooking efficiency we set for any particular category of products.
We have discussed multiple aspects of top-notch 2-burner gas grills available on the market in this comprehensive guide. Nonetheless, you can check the following conclusive remarks if you are in a hurry and can't read the whole article.
Weber Spirit E-210 Gas Grill is the overall best. A 450 square-inch cooking area and a weight of around 20 pounds make it very convenient. The heavy-duty construction keeps rust and corrosion at bay. Additionally, the grill is equipped with a highly efficient grease management system that offers maximum satisfaction to users regarding cleaning and maintenance.
Char-Broil 2-Burner Cabinet took second place. With a total cooking space of 300 square inches, the device offers a heating capacity of 24000 BTU. Among the features that make it stand out are high-performance temperature control, a high-end steel lid, foldable side shelves, and easy startup due to its electronic ignition system.
Blackstone Gas Grill offers bang for the buck. It has all the features and specifications of an exceptional two-burner gas grill at an appealing price. The total cooking area on this grill is approximately 470 sq inches. Also included are a couple of shelves for easy storage of foods and other kitchen tools.
FAQs
Are 2-burner grills good?
2-burner gas grills provide valuable solutions to multiple needs of BBQ lovers. They outperform their counterparts in many things. For instance, they allow for easy transportation between two places. Since they are the size of a suitcase, you can carry them with you. They are less expensive and easy to assemble and use.
When it comes to maintaining expenses, 2-burner gas grills are way more inexpensive than 3- or 5-burner grills. All in all, if you have a small family, a 2-burner grill might be the best option to consider.
Who makes the best 2-burner gas grill?
There are multiple companies offering quality 2-burner gas grills on the market. Every company has its unique positives and negatives attached to it. Therefore, it all comes down to consumer preferences in deciding what makes the best 2-burner gas grill.
In our opinion, Weber, Char-Broil, Monument, and Black Stone are the overall best in terms of user convenience and provision of quality products aimed at resolving problems.
How long should a gas grill last?
A gas grill usually lasts between 8 and 10 years if you take care of maintenance and usage. Some people complain that their gas grill gets out of order within 3 to 4 years.
On the other hand, it is not uncommon to find professionals who have been using their grills for more than 15 years. It all depends on professionalism and care on the part of users that define how long a gas grill lasts.