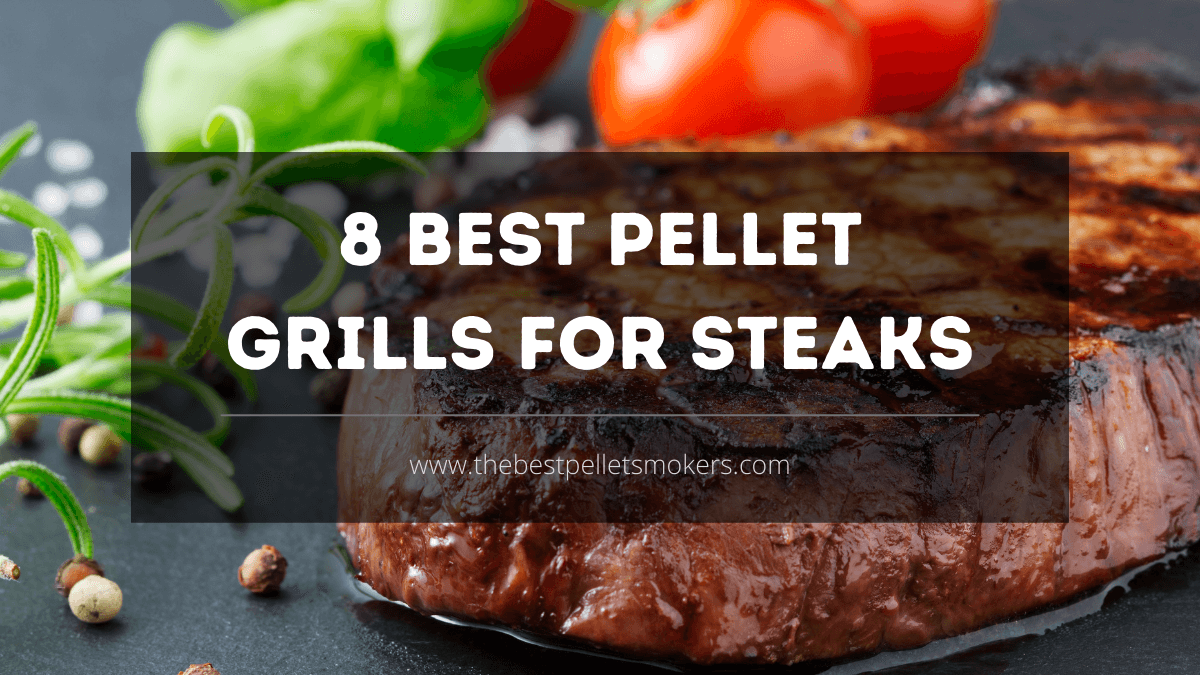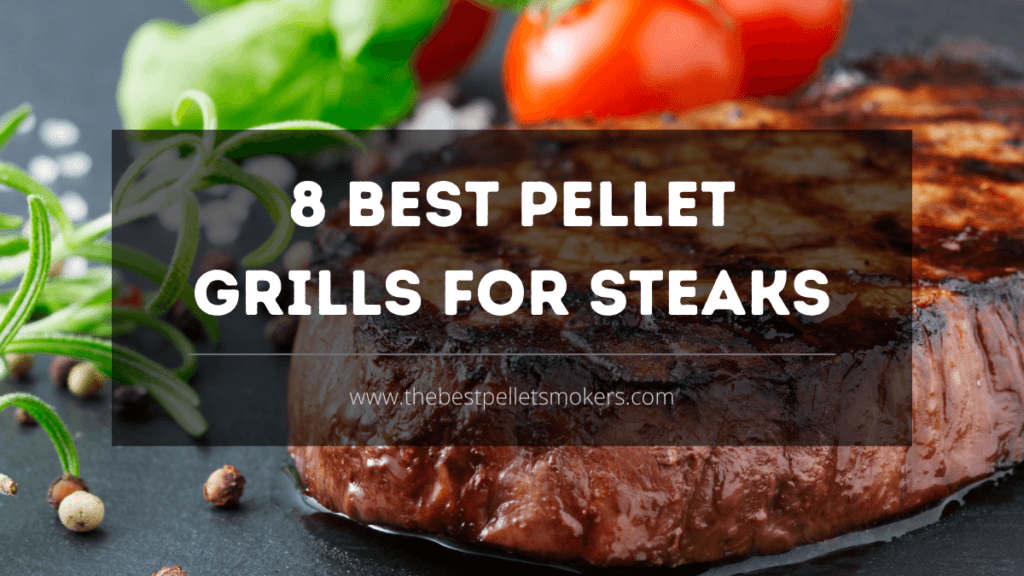 You are at the grocery store, and you need to buy a steak for tonight. You want it to be juicy, tender, and delicious. But what is the best way to cook it? Should you grill it outside on your gas grill or a pellet smoker or should you use an indoor smokeless grill? What is the best pellet grill for steaks?
Many factors go into how well your steak turns out. One of the most important ones is which type of grill you use! If this sounds like something that may interest you then keep reading, and we will discuss 8 different pellet grills for steaks in depth!
In the world of barbecue, there are few things more primal than a well-cooked steak. The high heat sears in the natural flavor and juices of the meat while simultaneously creating that beautiful charred exterior that is almost impossible to resist.
All this, combined with a perfect mealtime accompaniment like grilled asparagus, makes for an incredible experience. One that you want to share with friends and family at every opportunity possible. So what's stopping you?
A great quality grill can help make all your outdoor cooking dreams come true, whether it be for steaks or burgers or anything else you might have on your menu plan for the day. It is important when looking into buying one to consider the type of grill you might need.
8 Best Pellet Grills for Steaks
After analyzing lots of potential choices, we have put together a list of the 8 best pellet smokers that perform exceptionally well in terms of searing and temperature consistency. You may select the one that seems more appropriate for your needs.
| Image | Product | Feature | Price |
| --- | --- | --- | --- |
| Top Pick | Camp Chef WIFI Pellet Grill | Automation of grilling process via Bluetooth and Wifi, 4 meat probes included, Stainless steel build | Check Price |
| | Green Mountain Davy Crockett | 9 lbs hopper capacity, Open Flame Technology for perfect searing, Produces excellent quality smoke | Check Price |
| | Z GRILLS ZPG-550B | Versatility, Bang for the buck, The total cooking area is 538 square inches | Check Price |
| | Traeger Grills Pro Series 780 | Suitable for large families, 780 sq inches of total cooking space, 18 lbs hopper capacity | Check Price |
| | PIT BOSS 71820FB PB820FB BBQ Pellet Grill | Flame broiler helps you with perfect steak searing, Generous cooking space of 820 sq inches, Excellent heat control | Check Price |
| | Weber 23510201 SmokeFire EX6 (2nd Gen) | Porcelain-enamel finish, Rust prevention, A couple of meat probes included | Check Price |
| | Camp Chef SmokePro DLX Pellet Grill | 2nd Gen PID controller, LED display for reliable monitoring, Electronic Auto-ignition system | Check Price |
| | Traeger Grills Pro Series 34 | 884 sq inches of total cooking space, A couple of meat probes included, Digital Pro Controller maintains a consistent temperature | Check Price |
Let's get started with the reviews right away!
The first on our list is a top-notch device from Camp Chef Grills that combines the latest technology with efficient operational efficiency to offer the best machine for searing steaks. With a heating capacity of 25 000 BTU, you can try everything from cooking low and slow to searing at high temperatures. 
The presence of Slide and Grill technology offers users to enjoy direct flame cooking where you can raise the temperature as high as 650 degrees in the sear box. On the other hand, with a normal temperature range of 160 degrees to 500 degrees and a closed lid, this grill smoker is perfect for any BBQ enthusiast.
Spacious Cooking Area
The grill's chamber is tall and spacious, allowing you to cook at least 4, 10-pound pork shoulders on the main rack at once. The louvered drip pan has little slits that help with airflow so your food cooks evenly.
With an impressive 800 square inch cooking space across two racks. You can easily fit 4 10-pound pork shoulders on the bottom rack alone which is enough pulled pork to feed more than 50 people. Furthermore, the louvered drip pan under the bottom rack also helps ensure even cooking with airflow.
Stainless Steel Build
The stainless steel pellet grill & smoker has several features that make it stand out from other grills. It is made from high-quality materials, so you don't need to worry about cleaning and maintenance like with other grills. The extended chamber allows for storage space which makes your life easier when cooking on this machine!
Additionally, Camp Chef Woodwind WiFi 24 Pellet Grill and Smoker is the perfect grill to have due to its exceptional accessories. It has a bottom utility shelf that you could use to keep everything in place while cooking your food.
Wifi and Bluetooth Enabled
Camp Chef Woodwind WiFi 24 is a pellet grill and smoker that has Bluetooth and wifi connectivity for connecting you with the camp chef app. With the app, you can control the grill's temperature by setting it from anywhere between 180 degrees F to 500 degrees F. You can also monitor the cooking process of your food through this app.
The Camp Chef app is available on iOS and Android devices to connect with your grill through Bluetooth. When combined with lots of other additional features such as a 22-pound hopper capacity, a couple of wheels, 4 meat probes, and many other things make this machine stands out from the crowd.
Read Also: How to grill Top Round Steak?
Davy Crockett from Green Mountain is the runner-up on our list of the best pellet smoker for steaks. It provides an excellent combination of portability and operational efficiency for searing steaks at high temperatures. With a total cooking area of 219 sq inches, it seems to be a good fit for small families of 3 to 4 members.
Portability
Take your outdoor cooking experience to the next level with this lightweight portable pellet grill. Weighing only 68 pounds, it's perfect for tailgating, camping, and even backyard parties! This grill has multiple ways to power itself through means such as the included power cord or battery pack which allow easy transportation if desired!
This compact grill can also be used indoors as long as it is plugged into a 12V outlet – no messy charcoal or propane required. Moreover, the foldable legs further enhance its convenience as the best portable pellet grill.
Open Flame Cooking
The most unique feature of the open flame option is that it enables you to sear. For those who do not know, searing meats lock in flavor and moisture while creating a crispy texture on top when cooked at high heat for short periods.
Moreover, a thermal sensor will monitor all temperatures inside the grill for consistent taste and delicious meals.
Read Also: Traeger vs Green Mountain: Which is the best?
With a total cooking area of 538 sq inches, this ZPG 550B from Z Grills offers maximum value to users. It provides nearly all the features of a high-end pellet grill for steaks with a justified price tag. The hopper capacity on this machine is 15 pounds, which seems sufficient for 4 to 5 hours of consistent grilling without involving any refills.
Versatility
ZPG-550B from Z grills is a highly versatile grill. A pellet grill that is 8 in 1 is a great feature to have since it lets you bake, grill, roast, smoke, sear, braise, and even taste BBQ all using just one machine.
Among the other great features of this pellet grill are its consistent heat and precise temperature control, which enhances its efficiency for users in many ways.
Highly Efficient PID Controller
The PID controller continuously monitors the heat of the grill and ensures that it is maintained at a constant temperature. This smart technology reduces wasted energy, making grilling more environmentally friendly since less gas needs to be burned to provide consistent temperatures for cooking food evenly.
Moreover, it also helps in the prevention of heat leakage throughout the grill for enhanced consistency of results. The smart digital controller makes regulating the temperature of this grill easy. The dial allows you to switch between 180ºF and 450ºF, and it is equipped with an automated electric feed system that reduces your need for constant monitoring.
Read Also: How long should a steak rest after grilling?
The Pro Series 780 grill from Traeger Grills is one of the most premium devices offered by the company. Its impressive total cooking area of 780 square inches makes it a great choice for large families. However, the hopper capacity on this device is 18 lbs which seems okay given the price tag and grilling area of the machine.
Cooking Space of 780 Sq Inches
Traeger grills are designed for outdoor living. They're built to handle anything you throw at them, whether it's intense smoke or high temps on the flame side of the grill. The size of grill will hold 34 burgers, six rib racks, and six chickens on it at the same time. 
There's an 18-pound pellet hopper capacity with a temperature range of up to 500 degrees Fahrenheit. So, it can go as high as your meat can tolerate for cooking.
Alexa Supported
Traeger 780 is the latest grill to be made available with Amazon's Alexa. This means that you can now control your grill from inside or outside using voice commands – pretty cool, right? These are all great features, but you must not overlook the fact that this device can also grill and sear perfectly.
Read Also: Traeger Smoke Setting: Everything you need to know!
The next on our list is a high-end pellet grill smoker from PIT Boss that is famous for its impressive design and performance. The overall cooking space on this machine is nearly 820 sq inches, which is enough to feed lots of friends at a weekend BBQ party.
Pit Boss 820 allows you to add pellets while grilling. This is great because it means that the grill comes with a high pellet hopper, so you don't have to get closer than necessary when adding more fuel.
820 sq Inches of Cooking Space
The Pit Boss 820FB is a versatile grill that can be used as a smoker, an oven, or both. Grill racks are divided into two areas: one to keep cooked food warm and fresh, and the other to cook your favorite recipes at extreme heat.
As long as you have the correct pan size, you can use the unit's cooking area as a baking area.
Adaptable Heat Shield
This grill has a heat shield that adapts to different settings. It's designed so that you can cook more delicate foods while letting your burgers or steaks sizzle, making them taste great without burning the insides.
This heat shield adapts to any setting so that you can cook your food while enjoying the sound effects it makes.
Read Also: How to grill a frozen steak?
Weber E6 is one of the best pellet grills for steaks, thanks to its high-temperature range and impressive design. The overall cooking space of the machine is nearly 1000 sq inches, which means it is enough to handle a large gathering of colleagues at a weekend party.
Additionally, the hopper capacity of 22 pounds lets you sear the steaks continuously without involving frequent refilling of pellets.
1008 sq Inches of cooking space
Weber E6 is a top-of-the-line Weber grill that offers the perfect combination of size and performance. Total cooking space is 1008 square inches, with 648 square inches on the lower rack and 360 square inches on the upper rack. There is enough room here to accommodate the grilling needs of a large group of friends.
Improved Efficiency
This second-generation EX6 grill has brought lots of improvements to match the expectations of users. Firstly, the startup is pretty straightforward as a result of design changes introduced by the company. Secondly, there are lots of convenient features in the app's connectivity. In the new app, you'll find features like meat cooking options and smoke boosts.
Read Also: Saber Grills Vs Weber Grills: Which is the best?
Camp Chef SmokePro is another great pellet grill for steaks that provides a total cooking space of 573 sq inches. The primary cooking chamber measures 429 square inches, while the secondary cooking chamber measures 144 square inches.
In terms of hopper capacity, you will see 18 lbs of storage for pellets on this device. With this model, you can combine several attachments from Camp Chef to enhance its efficiency.
Easy to Clean and Maintain
Not every device on the market is easy to maintain because of several design inefficiencies in them. However, that is not the case with this gem from the camp chef. The presence of a one-pull ash cleanout system ensures the disposal of ash within seconds.
Additionally, you will not see any ash buildup around multiple corners of the grill due to its impressive design. As a result, maintenance is a breeze!
Also Reviewed: 7 Best George Foreman Grills 2023: In-Depth Buyer's Guide
The last on our list is the top-notch device from Traeger Grills which is famous for its precise temperature control and consistency of cooking results. The total cooking space on this unit is 884 square inches with enough options for a highly versatile cooking experience. 
Moreover, an 18-pound hopper capacity is sufficient to handle high sears without continuous refilling of pellets.
Seamless Cooking
Unlike many others on the market, the Pro Series 34 offers a convenient hopper cleanout feature that enhances its desirability. For extensive cooking, you have to refill the hopper regardless of the brand of the grill.
However, only a few of them allow users to simultaneously change the pellets without turning the device off. In this way, you will be able to continue searing your steaks without the temperature dropping dramatically when the pellets are refilled.
Read Also: How To Make Snack Sticks in a Smoker?
A pellet grill is an outdoor cooking appliance that burns wood pellets, which are then heated and cooked using convection. A sear box is a device used for searing food quickly at high temperatures.
The two appliances have similarities and differences in their functions, so it can be hard to decide which one you want.
Pellet Grills Are Larger than Sear Boxes
A pellet grill is larger than a sear box and is built for outdoor cooking. It offers a huge versatility as it can be used to cook different types of food. On the contrary, a sear box is a smaller and more compact attachment that is usually attached to the grill.
A pellet grill has a large cooking surface, which means that it can cook more food in less time compared to other types of grills or ovens. The sear box is small but powerful as it comes with an attachment called the flame tamer, which ensures even heat distribution throughout the machine. 
Pellet Grills Are More Expensive than Sears Boxes
A pellet grill costs more than a sear box, but it offers many benefits due to its large size and capability of cooking different types of foods at once. A searing box is less expensive compared to a pellet grill. However, there is nothing better than a sear box when it comes to searing at high temperatures.
Wrapping Up
Pellet grills are indispensable for BBQ enthusiasts looking to cook a wide variety of things. If you want a perfect searing experience, you should definitely combine your pellet grill with a sear box. It will help you sear meat at high temperatures to obtain the steakhouse quality results.
However, some modern pellet grills such as Camp Chef WIFI Pellet Grill often offer side attachments for searing. In this way, you do not need any additional attachments when searing with them.
To conclude, pellet grills are awesome when they are used for steaks. The best pellet smoker for you will depend on what your needs are and the features you're looking for.
We hope that this guide has helped narrow down which of these smokers is right for you or at least provided a few helpful tips to make your decision process easier.
Otherwise, you may check the following concluding remarks regarding our top choice for further clarifications on what makes the appropriate choice for you.:
Camp Chef WIFI Pellet Grill is the overall best pellet grill for steaks as it outperforms every other machine on the list in terms of convenience and operational efficiency. Woodwind is made out of durable materials that will last for years. I've had the chance to check a few pellet grills at big box stores, and none compare in quality or build as this product does.
With the Slide and Grill technology, you can enjoy direct flame cooking where you can raise the temperature up to 650 degrees in the sear box.
The hopper holds 22 lbs of pellets, which is more than enough for your 12-hour pork shoulder smoking session! It doesn't come cheap at over a grand. However, it's totally worth the investment when your system can do everything from grilling wings while baking desserts simultaneously (or vice versa). 
Sometimes you can even cook pizza on your pellet grill as guests watch you roast ribs in the rotisserie spit attachment. There are just too many options available now – no wonder why everyone loves their backyard barbecue area this year.
This summer, you will be cooking more than ever because of the Woodwind WiFi 24. It comes with so many attachments that it's easy to use as a grill or oven for anything you want and makes outdoor cooking a lot of fun!