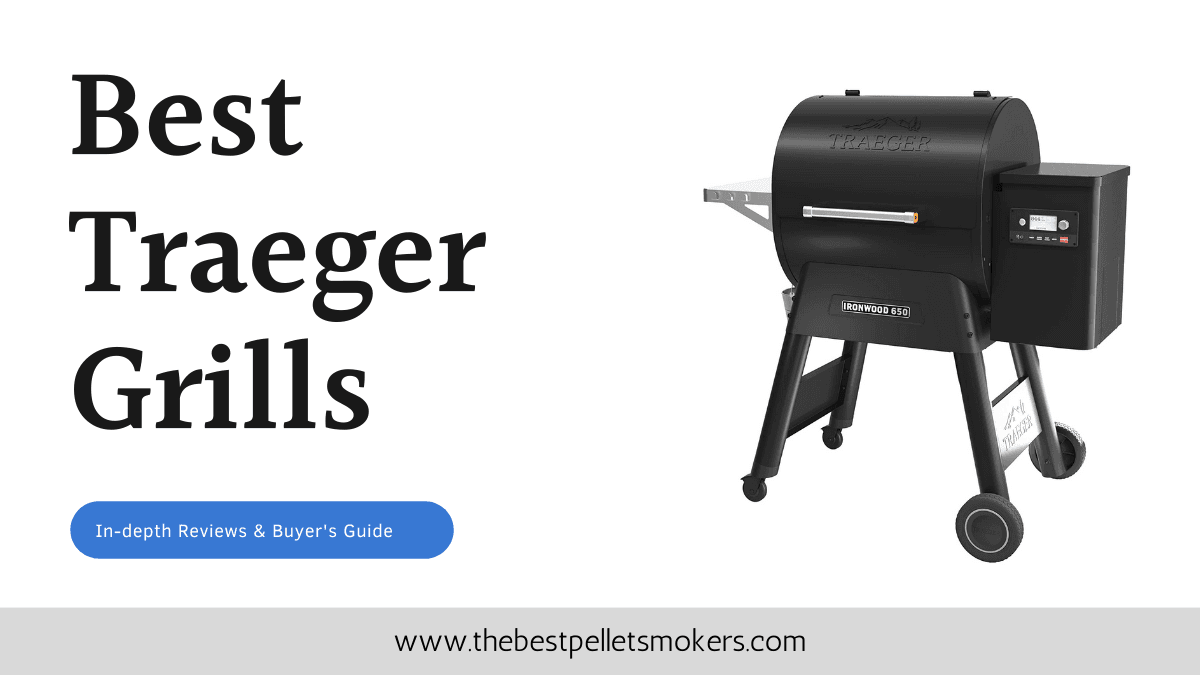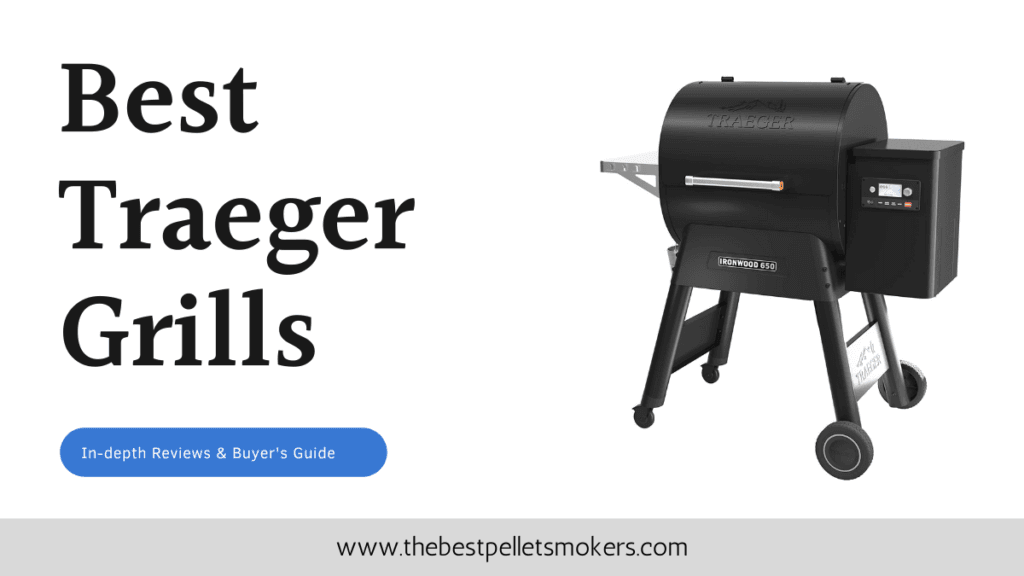 Traeger has always been my favorite brand because it makes quality products that last for years even if not cared for properly. This guide reviews the best Traeger grills and discusses some key factors to consider before buying one for your family.
Traeger grills are an excellent choice to consider because they offer highly reliable cooking results without the hassle of charcoal or propane tanks. They have been on the market for more than 30 years because of the quality and affordability of their devices.
In a rush, Traeger Grills Pro Series 575 is the overall best Traeger grill available on the market.
Within the Traeger lineup, you can find a wide variety of models to meet all budgets and needs, from basic backyard smokers to high-end outdoor kitchen appliances. The key is finding the right fit for your lifestyle.
You might be unfamiliar with the Traeger grill lines and categories offered by Traeger. Don't worry; we have discussed what a different series of Traeger grills means in the upcoming section below. 
6 Best Traeger Grills
Check out the comparison table for a quick overview of all the grills reviewed in this in-depth guide.
| Image | Product | Feature | Price |
| --- | --- | --- | --- |
| Top Pick | Traeger Grills Pro Series 575 | 575 inches of grilling space, 18-pound hopper capacity, D2 drivetrain control for maximum efficiency | Check Price |
| | Traeger Grills Ironwood 650 | 650 sq inches of grilling capacity, 20-pound hopper capacity, Super Smoke mode for efficient smoking | Check Price |
| | Traegers' Ranger Portable Pellet Grill | Compact design, It weighs only 60 pounds, Excellent meat probes | Check Price |
| | Traeger Grills Pro Series 34 | Sturdy build, Highly versatile, Cast-iron cooking grates | Check Price |
| | Traeger Grills Tailgater 20 | Porcelain grates, 300 sq inches of grilling space, Perfect for newbies | Check Price |
| | Traeger Grills Pro Series 22 | Digital Pro Controller, 18-pound hopper capacity, 102 pounds weight | Check Price |
Let's review the best Traeger grills before considering other factors while buying a Traeger grill.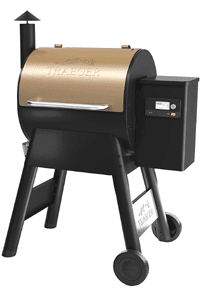 The first on our list is the top-notch Pro Series 575 model that combines lots of interesting features within a single unit. The total grilling space on the unit is 575 sq inches, which is sufficient for handling the needs of medium to large families. Moreover, the Alexa compatibility allows users to control the machine remotely.
The presence of the D2 drivetrain mechanism on this grill makes it stand out from its competitors as it adds to the overall convenience of users. With an overall weight of 126 pounds, the Traeger 575 is comparatively lighter than many of its competitors. In addition, it boasts a standard 18 lbs hopper capacity that gets rid of frequent refilling of pellets. 
Grilling Space of 575 Sq Inches
Are you looking for a new grill that offers convenient grilling space for medium families? Well, Traeger Pro 575 can be a good choice. With its 575 sq inches of cooking space, it is one of the perfect Traeger grills for anyone who loves to cook.
A grilling space of 575 sq inches allows users to cook up to 20 burgers if they know how to accommodate things adequately on a grill. Not only that, but it's packed with features that make everyday life easier, more entertaining, and more productive.
D2 Drivetrain
There is nothing more attractive than a Traeger grill with a D2 drivetrain. Yes, you guessed it right! The Pro Series 575 comes equipped with a highly innovative D2 drivetrain mechanism that facilitates easy control and optimized cooking pursuits. In addition, you will notice an enhanced temperature range coupled with convenient temperature handling on this machine.
By D2 drivetrain, we mean you will be having things such as a brushless motor, adjustable auger speed, and variable speed fans. When all of these things combine, you can guess the efficiency you'll be having in terms of grilling and smoking.
Read Also: Traeger Error Codes: What do they mean & how to fix them?
In our opinion, Traeger grill Pro Series 575 is the overall best Traeger grill you can buy today. It has all the features of an outstanding grill without costing you a fortune. Everything from a brushless motor to optimized temperature control makes it worth considering.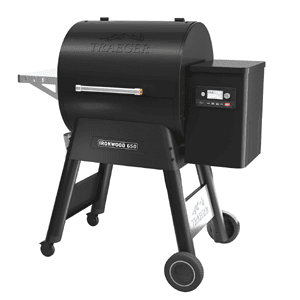 Are you looking for a grill with increased grilling space and hopper capacity compared to the 575 Pro series model? The next on our list of the best Traeger grills is the top-notch model from the Ironwood series that boasts 650 sq inches of grilling room combined with 20 20-pound hopper capacity. 
It means you can easily cook up to 25 burgers within a single go if you are a pro BBQ chef. However, it increases the overall weight to nearly 150 pounds, which might be inconvenient for people who continuously shift their machines from one place to the other. With that said, you will see things like an automatic auger.
650 sq Inches of Grilling Space
The grill has an overall grilling capacity of 650 square inches, larger than many of its competitors. Grilling is a great way to get outside and enjoy the fresh air, but it can be hard to make sure your food comes out perfectly cooked every time. However, that is not the case with this champ from Traeger.
Traeger has created the solution for this problem by creating an easy-to-use grill that cooks food evenly while requiring less maintenance than traditional grills. In addition, the combination of an extensive grilling area and WiFIRE controller makes it possible to cook lots of food from anywhere using your smartphone.
Efficient Hopper Design
The presence of 20 pounds of hopper capacity means this model transcends the previous one when it comes to pellet refilling. In addition, the automated hopper design saves lots of pellets by automatically adjusting the feeding mechanism according to the set temperature.
In addition, you will love the results when it comes to reverse sear. Yes, you heard it right! Set your temperature at 230 degrees and wait for the internal temperature to reach 130 before you increase the temperature to sear the exterior. You will love the precision and accuracy after following these guidelines.
A pro tip in this regard would be to do all these things with the help of the app. It reduces the burden on the user's shoulders and increases convenience.
Read Also: How Does a Traeger Grill Work?
In our opinion, Ironwood 650 is the runner-up in our list of the best Traeger grills. With this amazing grill, you don't need any special expertise – anyone will be able to cook delicious meals on it! The best part? You won't have to spend hours fussing over your food because this grill can do all the work with the help of integrated W9ifire technology and the Traeger app.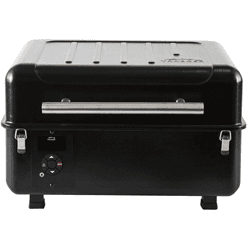 Ranger is one of the best-selling Traeger grills that is famous for the compact shape and convenience it offers for users. It boasts a total of 176 sq inches of cooking space, which seems sufficient for travelers. Not only that, but the overall weight of the grill is approximately 60 pounds, enhancing convenience for portability and ease of management.
Additionally, a combination of 8-pound hopper capacity coupled with a heating capacity of 75-100 BTU per square inch of the device translates into highly reliable cookouts when you are on the go.
Portability
It's hard to cook a good steak when you are camping, especially if you don't have a grill. However, you can get the same great grilled taste without having to carry around your big old grill and propane tanks with the Traeger Ranger Portable Pellet Grill.
With this grill, you won't need any charcoal or propane because it runs on pellets of wood that burn cleanly and efficiently. Not only does this mean no more messy charcoal spills in your car (and all over your clothes), but also fewer trips back home for fuel refills!
176 sq Inches of Grilling Space
The Ranger has 176 square inches of space for cooking your favorite meats, vegetables, and desserts anywhere you want. Moreover, this grill weighs less than 60 pounds, so moving it around is easy when not in use too.
We all know that grilling is one of the best ways to cook food, but it takes a lot of time and effort. Traeger's Ranger Portable Pellet Grill combines everything you expect from a full-size smoker in a small, portable package.
Read Also: Pit Boss vs Traeger Grills: Which is Better?
In our opinion, the Traeger Ranger is designed for people who like grilling but want something they can take anywhere. This portable pellet grill is lightweight and easy to set up, but it still has enough power to give you that delicious grilled flavor.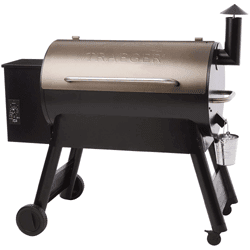 The Traeger Pro Series 34 lies somewhere between premium and value-for-money grills. It features an attractive design without being overly expensive. Everything from its easy assembly to its versatility of design makes it one of the best Traeger grills on the market. Additionally, heavy-duty steel construction ensures the grill stands the test of time.
The machine features a total cooking space of 884 sq inches that allows users to handle the grilling needs of a large family or a casual weekend party. Like many other Pro series models, the hopper capacity on this model is 18 sq inches, which saves users from frequent refilling.
Stainless-Steel Build
It's hard to find a grill that will last more than 5 years without rusting out or breaking down. That is until we found the Traeger Pro Series 34 pellet grill, which has been built to stand up against the elements and give you years of reliable grilling.
This heavy-duty grill was designed with steel parts that won't rust, along with cast iron cooking grates that can withstand high temperatures and resist rust better than stainless steel.
Versatility
Grilling isn't always easy, especially when you're cooking for a crowd and trying to get dinner ready simultaneously. There's so much to worry about:
Keep food from burning.
Get it all cooked evenly.
Not letting one person have more than another.
It can be frustrating!
The Traeger Pro Series 34 Pellet Grill is the perfect grill for families who want to grill together in the evenings. With its versatile design, you can cook, grill, smoke, braise, bake, and BBQ without involving any complexities.
Read Also: Difference Between Grilling, Barbecue, and Smoking
In our opinion, the Traeger Pro series 34 makes the perfect choice for people looking for a mix of quality and affordability. The grill is made from some of the highest quality materials available today. Additionally, it can withstand harsh weather conditions like any other highly expensive gas or charcoal grill on the market.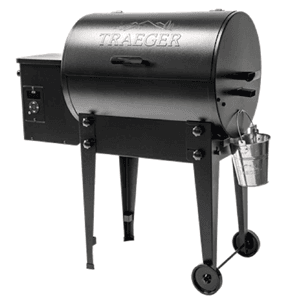 The next on our list of the best Traeger grills is Tailgater 20 which features a total cooking space of 300 sq inches. The hopper capacity on this unit is 8 pounds, which seems sufficient given the overall dimensions and cooking area.
In addition, the 5-degree temperature increment system ensures the users get the taste and quality they want from a high-end machine.
Digital Pro Controller
You can't always be at home to keep your food warm and tasty. With its high-end Digital Pro Controller, the Traeger Tailgater is the perfect solution for those times. This grill has a small footprint but is big on performance and flavor.
EZ Foldable Design
The EZ foldable design makes it easy to transport and use. With its compact design, this pellet grill can be taken anywhere and can be easily stored in car trunks.
Also Reviewed: 7 Best Flat Top Grills in 2024
In our opinion, this pellet grill from Traeger makes the best choice for newbies. Everything from its easy management to compact design and reliable cooking ability makes it stand out from the crowd. In addition, this portable smoker is so easy to use, even if you've never grilled before!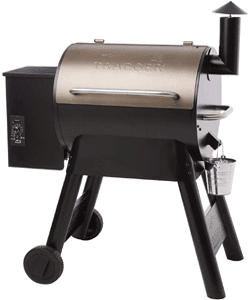 The last on our list is the Pro series 22 model from Traeger which features a total grilling space of 572 sq inches. The hopper's capacity of 18 pounds coupled with a reliable cooking mechanism makes it one of the best Traeger grills available on the market.
572 square inches
The Pro Series 22 features a total cooking space of 572 sq inches, which means you can now cook up to 4 pork butts without involving any hassle. It can hold up to 4 to 5 medium chickens or 18 to 20 burgers at a time.
All-in-One Package
The Traeger Pro Series 22 grill has made grilling easy and convenient for everyone. With its high-tech features like the auto-start system, digital temperature controls, and real-time meat probe thermometer, you will enjoy your outdoor cooking experience more than ever before.
Read Also: Camp Chef vs Traeger: Which is the Best Pellet Grill?
In our opinion, this Pro series 22 makes the best choice for people who consider Pro series 34 a bit pricey but still want to enjoy relentless functionality.
Traeger Product Lines: An Overview
The Traeger brand has several different lines of pellet grills that vary in price and features.
The Tailgater
These models are the most affordable option, coming with a space-saving design perfect for small patios or tailgate parties near your car/van/SUV. These models cook up burgers and brats in an all-white, porcelain steel exterior.
The Tailgater Pro model adds much-needed features like an automated auger, a digital control board with a meat probe, and grill temperature probes. This is great for ensuring your food cooks to perfection without any guesswork involved.
The Pro Series
Traeger Pro is one of the hot-selling products offered by the company. They are known for their value and affordability. However, their combination of relentless features and affordability makes them stand out on the market.
Traeger Pro series provides all the necessary features of a pellet grill without adding any complex plethora of modern pellet cookers. In addition, there is Wi-Fi connectivity and remote monitoring on these models. Even so, the Pro series comes at an affordable price.
The Ironwood Series
The next on the list is the Ironwood series, which is relatively more expensive than the Pro series. It comes equipped with additional features such as DownDraft Exhaust and TRU convection to enhance the convenience of professional users and high-end chefs.
The availability of Super Smoke mode also enhances the attractiveness of this series for people who are looking to optimize their cooking pursuits. The smoke mode intensifies the smoking process and induces a great smoky flavor that is hard to resist.
In terms of price, the models in this series are relatively cheaper than the ones previously discussed. If you are a beginner or do not want to spend extra dollars, the Pro series would be more than sufficient.
However, if you want additional features and are willing to spend some extra bucks, the Ironwood is undoubtedly a good choice.
Timberline Series
These Grills offer classic Traeger designs in three different sizes. These models offer the same features as other Traeger models but with upgraded digital controls and ease of use.
The price and cooking capacity are two other factors to consider in this regard.
The Timberline series is the most expensive line of pellet grills offered by the company. The grilling capacity varies between 800 sq inches and 1300 sq inches, depending on the models you want to buy.
What Are Other Factors to Consider Before Buying a Traeger Pellet Grill?
There are a few factors to consider before buying any Traeger pellet grill. Some of these factors include grilling space, cooking time and temperature control, ease of use, price range, and type of pellets used, among others.
Below is a detailed description of some of these factors:
Grilling Space
The grilling space is an important factor to consider because it determines how many people you can feed. The pellet grill should have at least 300-400 square inches of the cooking surface for large cuts of meat or a whole turkey.
It should also be able to accommodate smoking racks that are readily available in the market today. Considering this, we have included a diversified range of Traeger grills with grilling spaces between 300 and 1300 sq inches.
Depending on your needs and preferences, you can choose whichever suits you best.
Cooking Time and Temperature Control
You have to consider the cooking time and temperature control because it determines how long you need to cook food.
Cooking on a pellet grill is healthier since it does not require oil or grease that can get into your skin, eyes, or lungs when exposed to an open flame from propane gas grills. It also makes less noise and produces little to no smoke.
Ease of Use
Another factor that you have to consider before buying a Traeger pellet grill is its ease of use. It is because it determines how hard or easy it is going to be for you to operate and maintain your grill. In this regard, you can go for Traeger grills with Super Smoke mode and TRU convection for enhanced convenience and an optimized grilling experience.
In addition, the best model should have an advanced digital control system that comes with a meat probe, a built-in thermometer, and easy-to-clean grill grates, among others.
Read Also: How To Clean Traeger Grills?
Price Range
Traegers' Ranger is the most affordable model offered by Traeger. There's no clutter here, but it offers all the essentials for a top-quality cookout.
Affordability is one of the concerns that we cannot take lightly. Lots of people want to go for a Traeger grill that is reasonably inexpensive without compromising the quality.
Additionally, the pellet should be reasonably priced considering other factors like performance, features, durability, and warranty period. The price range also depends on the size of your family or how often you intend to use it for cooking purposes.
Portability
Its weight determines the portability of a pellet grill. Lightweight grills are easy to move and transport around, even when loaded with food and fuel.
Traeger pellet grills come in various sizes, ranging from medium to large. Smaller models are lighter and easier to carry around, while larger ones tend to occupy more space on the patio or deck.
In the end, it all comes down to your personal preferences and available space that determines what type of Traeger you are going to buy.
We have reviewed the best Traeger grills available on the market in this comprehensive guide, besides discussing some related stuff. We hope this guide has helped you select the Traeger grill that meets your needs appropriately. However, you can check the following conclusive remarks about our top pick if you are still unclear.
Traeger Grills Pro Series 575 is the overall best grill that you can consider after analyzing all the options discussed above. With 575 sq inches of grilling space and an 18-pound hopper capacity, this grill makes the perfect solution for summer entertaining. 
The availability of a high-end D2 drivetrain means you no longer have to worry about flare-ups or having an uneven cooking surface. It's easy enough for anyone in the family to use, even if they aren't experienced, chefs.
Not only that, but this grill uses Wi-Fi technology that lets you control temperature, time, and more from anywhere in your home using a free app on your smartphone or tablet device. 
Featuring Turbo Smoke mode and convenient hopper cleanout, the Traeger Pro Series 575 Grill is one of the best ways to cook on your patio this summer without hassle.
How long will a Traeger grill last?
The Traeger grill is built to last, and they use good quality materials in the manufacturing process of these grills.
The average life of the best Traeger grills varies between 8 and 12 years, depending on maintenance and usage experience. The frequency of use and cleaning also affects how long your Traeger will last.
Moreover, Traeger grills come with a warranty. The company offers a warranty of up to ten years. This thing puts buyers at ease knowing that they can depend on the grill for many years, and it won't rust or break down anytime soon.
For more information on how long a Traeger grill lasts, you can check the company's website and user manual.
Are all Traeger Grills made in China?
The production of Traeger grills has shifted to China in a bid to reduce production costs due to the low-cost productivity setup in China. Originally, the company began production in the US. However, the company felt a need for change over the years as the competitors started moving their production to China due to cheap labor.
Due to this, all Traeger grills are manufactured in China today.
Why is Traeger Grills so good?
Quality and durability are hallmarks of Traeger grills. They use high-grade materials like cast iron, steel, and stainless steel, which make them durable and reliable to use for a long time.
Additionally, they are made using the latest technology and innovative designs to ensure that they produce high-quality grills, which can be used to cook different types of food with ease. The controls on the grill make it easy to cook without having any issues like overcooked or undercooked foods, as you can set them at your desired settings.
Can I use my Traeger in the Garage?
No, it is not safe to use large Traeger models in a garage. The temperature will rise too high, and it may catch on fire or, worse, explode!
However, with smaller, portable models such as the Tailgater, you can use them if your garage is large enough. For this purpose, you will need a power supply. This means that you would either need to have an outlet in the garage or be able to run a cord from another room of your house into the garage.