Anyone who loves spending time outdoors knows that a good grill can make all the difference. And when it comes to grills, few brands are as respected as Camp Chef and Traeger. Both companies have been making high-quality grills for years, and they boast an impressive array of features. But which one is the right choice for you?
In this Camp Chef vs Traeger comparison, we'll take a close look at both brands to help you decide. We'll start by looking at their history and company's overview, then we'll compare their performance, features, and price.
So whether you're looking for the perfect grill for your next camping trip or the ultimate smoker for your backyard barbecue, this comparison will give you everything you need to know. Let's get started!
Traeger Grills are one of the most popular wireless pellet grills on the market, known for their ease of use and consistent results. The company was founded in 1986 by Joe Traeger, who was looking for a better way to cook meat. He developed a grill that used wood pellets as fuel, which allows the grill to maintain a consistent temperature.
From its humble beginnings in Oregon, Traeger Grills has grown into a national company with a reputation for quality and innovation. Today, Traeger Grills offers a wide range of products that are perfect for any grilling enthusiast.
The company has come a long way since then, and now offers a wide range of grills and accessories. However, their commitment to quality and customer satisfaction remains the same. Whether you're looking for a simple grill for your back patio or a professional-grade smoker for your restaurant, Traeger Grills has the perfect product for you.
Founded in 1990, Camp Chef is a leading manufacturer of outdoor cooking equipment. Based in Utah, the company offers a wide range of products, including grills, smokers, ovens, and stovetops.
Since then, Camp Chef has become a trusted name in the outdoor cooking industry, known for its innovative products and commitment to quality. Today, Camp Chef offers a full line of camp stoves, pellet grills, smokers, and other gear designed to make outdoor cooking easier and more enjoyable.
Camp Chef's mission is to create products that make it easier for people to enjoy the outdoors. The company's products are designed for use in a variety of settings, including campsites, tailgating events, picnics, and backyard barbecues.
In addition to its high-quality products, Camp Chef is also known for its commitment to customer service. They offer a full range of customer support services, including a comprehensive warranty program and an online resource center. With over a decade of experience, Camp Chef is a trusted name in the outdoor cooking industry.
Whether you're an experienced camper or just getting started, Camp Chef has the perfect solution for your next adventure.
This was a quick rundown of each company. In the next section, we'll take a more in-depth look at their products and features to see how they compare.
Camp Chef vs Traeger: A Detailed Comparison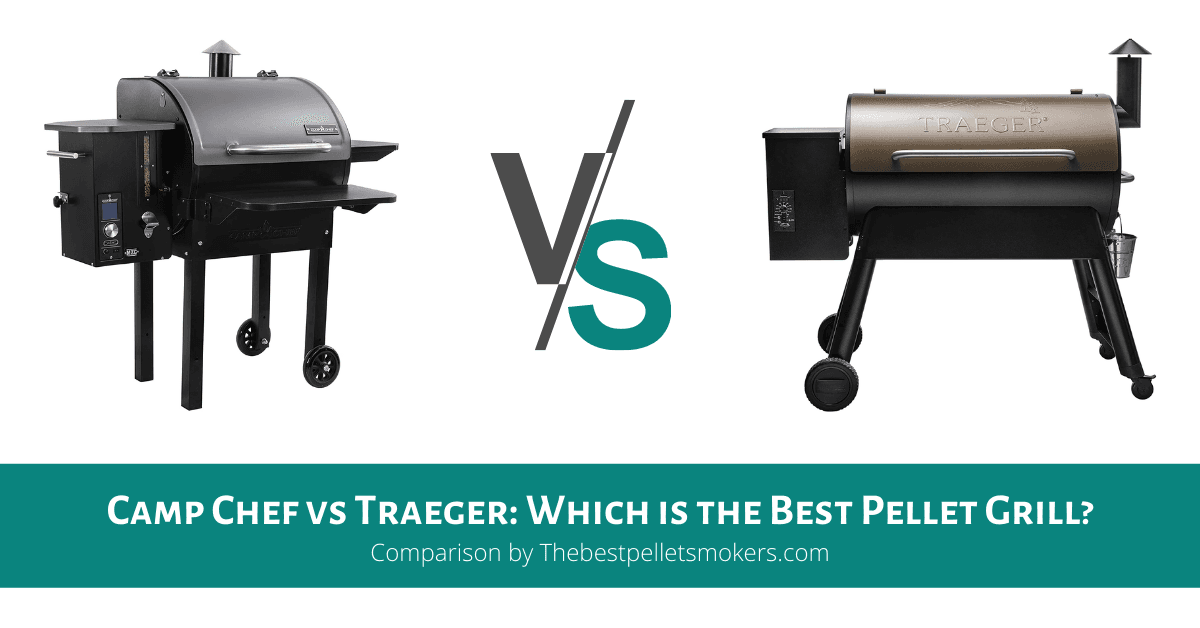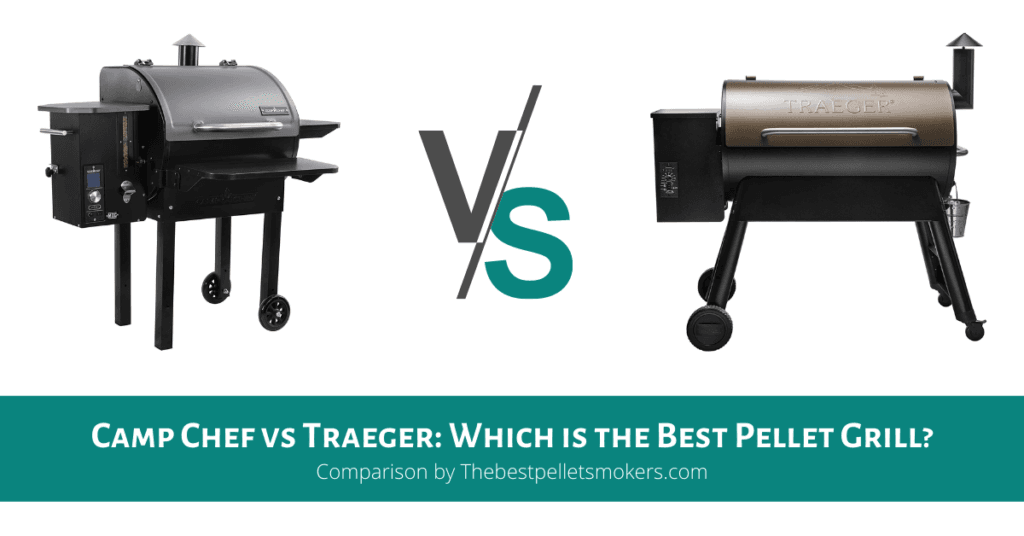 Affordability is important when it comes to purchasing a pellet grill. After all, these grills can be a significant investment. However, not all pellet grills are created equal in this regard.
When it comes to affordability, Camp Chef is the clear winner. Their products are typically priced hundreds of dollars less than comparable models from Traeger or other brands. And while Camp Chef grills may not have all the bells and whistles of some of the more expensive options, they still offer excellent value for the money.
For instance, the Camp Chef Flat Top Grill is currently available for around less than $600. In contrast, the Traeger Pro Series 34 Pellet Grill retails for around $750+. So, if budget is a major consideration for you, then Camp Chef may be the better option. Of course, this isn't to say that Camp Chef grills are always more affordable than Traeger grills. There are some exceptions to the rule!
1. Build Quality and Construction
When it comes to the build quality, both Traeger and Camp Chef pellet grills are built solid with powder-coated steel bodies. Where they differ, however, is on the top-of-the-line models. The higher-end Traeger grills use high-quality 304 stainless steel while Camp Chef sticks with powder-coated steel.
Some say the powder coating prevents the grill from rusting, however, it's more susceptible to chipping and peeling. In terms of grates, most Traeger models utilize porcelain-coated grates, while camp chef machines usually come with enamel-coated grates.
Overall, Traeger seems to be having a slightly upper edge when it comes to the build quality and quality of material used in the production.
Regardless, both are solid pellet grills that should last you for many years provided you take care of them. When it comes to construction and build quality, it's a wash between Traeger and Camp Chef.
Read Also: Weber Spirit Vs Spirit ii: What's the difference?
2. Temperature Range
Most people who are looking to buy a pellet grill are hoping to find a product that will allow them to cook a wide variety of foods. After all, what's the point of investing in a grill if it can only handle one or two types of dishes?
When it comes to grilling, the temperature is everything. If the heat is too low, your food will be overcooked and dry. If the heat is too high, your food will be burnt to a crisp. For this reason, many grillers take great care to choose a machine that can reach and maintain a wide range of temperatures. In this respect, both the Camp Chef and the Traeger are excellent choices.
Both machines can reach up to 500 degrees, making them ideal for searing meat. However, the Camp Chef has an advantage when it comes to direct searing. Thanks to its slide and grill technology, it can reach up to 650 degrees, making it perfect for those who like their steak rare.
This means that you'll be able to cook your food faster and at a higher temperature, giving you more control over the finished product. For those who like to experiment with different cooking methods, the Camp Chef is definitely the better option.
3. Temperature Control
Both the Camp Chef and Traeger pellet smokers offer excellent temperature control. The Camp Chef smoker has 15 degrees of temperature increment while the Traeger smoker has 5 degrees of temperature increment. This means that the Camp Chef smoker is slightly more precise in terms of temperature management.
Both smokers use digital controls to maintain consistent temperatures. The Camp Chef smoker uses a PID controller while the Traeger smoker uses a newly introduced D2 drivetrain. The PID controller is more accurate than the D2 drivetrain and offers more precise temperature control.
Further, Camp Chef offers Smart Smoke Technology, which is another feature that makes it stand out. With this feature, you can adjust the smoke level between 10 different levels, allowing for more diversity and greatness of flavor.
However, both controllers are effective in maintaining consistent temperatures.
Read Also: The difference between Grill & Griddle
4. Cooking Area
When it comes to grilling, size matters. A larger cooking surface means more space for burgers, hot dogs, and steaks, which is perfect for outdoor parties and family gatherings. But with so many options on the market, it can be tough to know where to start your search.
Similarly, when choosing between a Camp Chef and a Traeger grill, one of the key considerations is the size of the cooking surface. Both brands offer a wide range of options, from small portable grills to large-scale models suitable for catering events.
Both Camp Chef and Traeger offer a wide range of options in terms of cooking surface, but there are some important differences to keep in mind. Camp Chef grills tend to be more affordable, even as the cooking surface increases. This makes them a good choice if you're working with a limited budget.
However, Traeger grills become more expensive as the cooking surface increases. This makes them a better choice if you have a larger budget and you need a grill with more cooking space coupled with a few additional bells and whistles.
Overall, Camp Chef is a slight winner over Traeger due to its value for money with high-end and larger models, as well.
4. Hopper Capacity
When it comes to hopper size, both Camp Chef and Traeger offer models with a capacity of around 20 pounds. However, the maximum capacity for Traeger is 24 pounds, while the maximum capacity for Camp Chef models is 22 pounds. This difference may seem small, but it can make a big difference when you're trying to smoke large cuts of meat or cook for a crowd.
If you frequently entertain large groups, the extra capacity offered by Traeger may be worth the extra cost. However, if you're mostly cooking for yourself or a smaller family, the Camp Chef models will likely be more than sufficient.
With that said, the amount of pellet consumption depends largely on the type of grill and the cooking method you follow. So, it's better to count on these two factors while analyzing the need for hopper capacity. In general, anything above 20 pounds is considered a suitable choice as far as hopper capacity is concerned.
In the end, it all comes down to your personal preferences and how you want to cook your food on your BBQ machines.
Read Also: Saber Grills Vs Weber Grills: Which is the best?
5. Warranty
A warranty is always an important factor to consider when making any kind of purchase. After all, a warranty offers peace of mind, knowing that if something goes wrong with the product, you will be covered.
When it comes to comparing warranties between Camp Chef and Traeger, there is not a lot of difference. Both companies offer a 3-year warranty for their machines. This is standard for most pellet smokers on the market today. This means that if anything goes wrong with the grill during that time period, you can contact the company and they will either repair or replace the grill at no cost to you. This is a great feature, as it ensures that you will be able to enjoy your grill for many years to come.
So, if you are looking at these two brands side-by-side and trying to decide which one to buy, the warranty is not going to be a deciding factor.
6. Bells and Whistles
When it comes to bells and whistles, Camp Chef and Traeger both offer a few extras that can come in handy when grilling.
Both the Camp Chef and Traeger pellet grills come with meat probes. Camp Chef offers up to four meat probes while Traeger offers one to two. The extra probes on the Camp Chef become handy if you're cooking for a large group.
The sear box is also a nice touch that allows you to sear meats before or after cooking them. This adds another layer of flavor to your food. The sidekick on the Camp Chef allows for propane usage, which comes in handy if you run out of pellets.
On the other hand, the integrated grease management system on the Traeger is a nice feature that helps to keep your grill clean. The pellet sensor on the Traeger is also a useful tool that lets you know when you need to add more pellets to keep things going in a flow.
Read Also: Traeger Smoke Setting: Everything you need to know!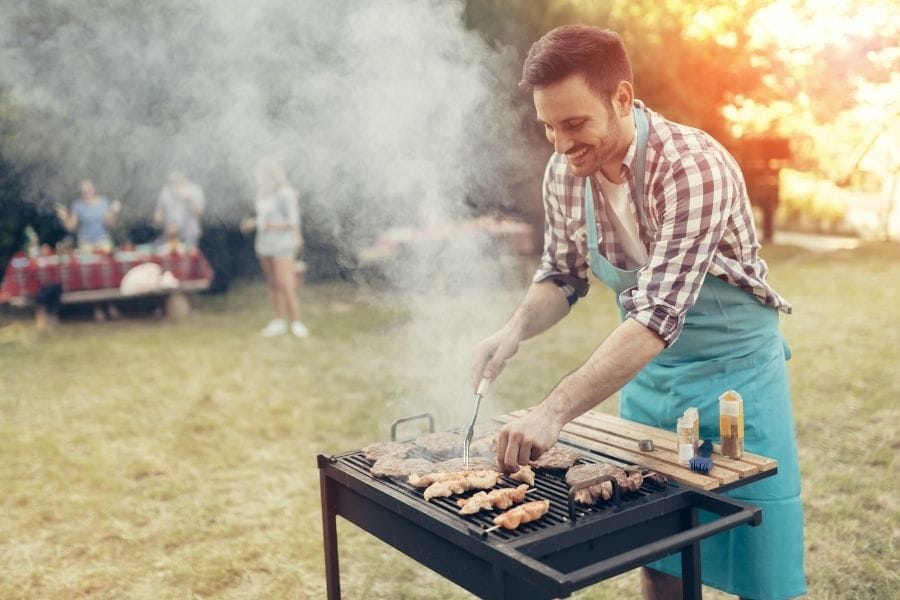 Camp Chef Vs Traeger Comparison: Who Is the Winner?
In the battle of Camp Chef vs Traeger, there is no clear winner. Both brands offer high-quality grills that feature innovative design and powerful cooking performance. However, each grill has its own strengths and weaknesses.
Camp Chef grills tend to be more affordable, while Traeger grills feature advanced features. Ultimately, the decision of which grill to purchase depends on the individual needs of the buyer. Those who want a great value may lean towards Camp Chef, while those who prioritize convenience and features may prefer Traeger.
Either way, both brands offer great options for serious grillers.
FAQs
Are Camp Chef Grills made in China?
Yes, Camp Chef grills are made in China. However, they are designers in the United States. This allows them to maintain quality control and ensure that their products meet American safety standards. Their products are available worldwide, but they only have manufacturing facilities in China.
If you're looking for a high-quality grill, then Camp Chef is a great option. Their grills are durable and built to last, so you can enjoy many years of cooking outdoors. 
How long does a Camp Chef Pellet Grill last?
The answer to this question depends on a few factors, such as how often you use it and how well you take care of it. However, with proper maintenance, your Camp Chef pellet grill can last for 8-10.
To help ensure that your grill lasts for as long as possible, be sure to clean it after each use and perform any necessary maintenance tasks. Additionally, it's a good idea to store your grill in a covered area when not in use to protect it from the elements. 
Can you leave pellets in the hopper?
It is not recommended to leave pellets in the hopper for more than 24 hours. The Pellets will start to break down and produce dust that can clog up the auger and cause problems with your stove. If you are going to be away from your home for more than 24 hours, it is best to empty the hopper completely. 
Wrapping Up
In conclusion, when considering the purchase of a pellet grill, it is important to consider the features that are most important to you. For some, the deciding factor may be price, while for others it may be the brand name. However, when it comes to performance and quality, both Traeger and Camp Chef offer products that are sure to impress.
In terms of value, Camp Chef grills tend to be more affordable, while Traeger's selection includes more premium options. Ultimately, the decision comes down to personal preference. Whichever grill you choose, you can be confident that you're getting a high-quality product that will provide years of enjoyment. Thanks for reading!