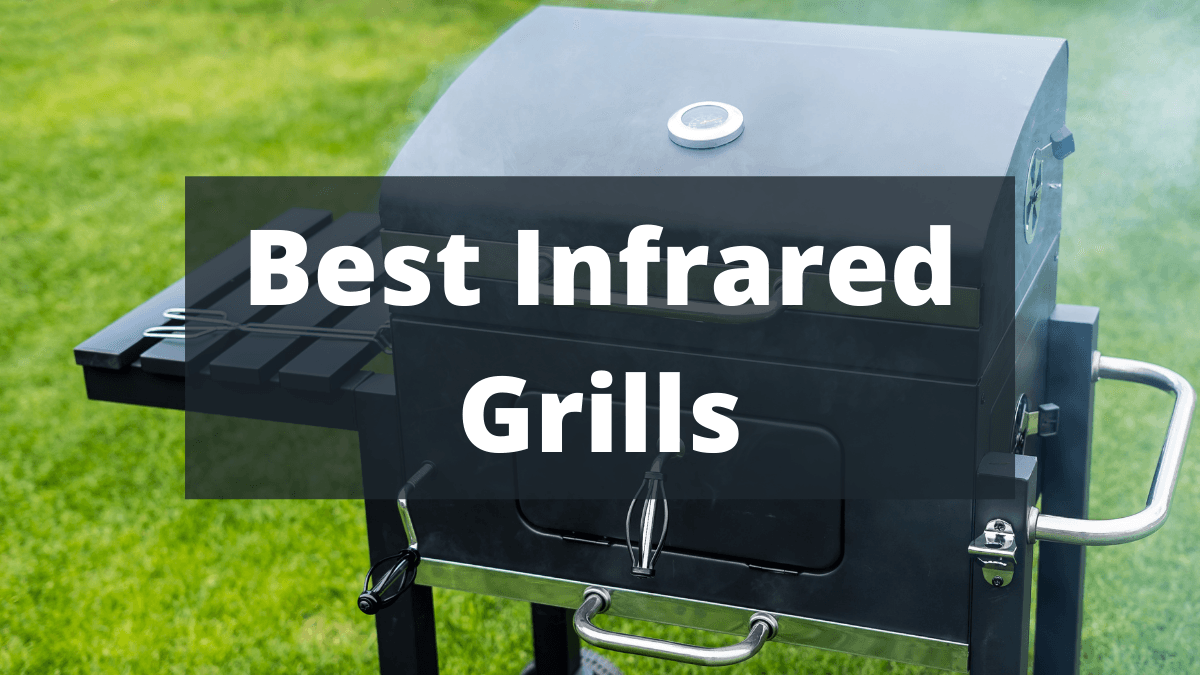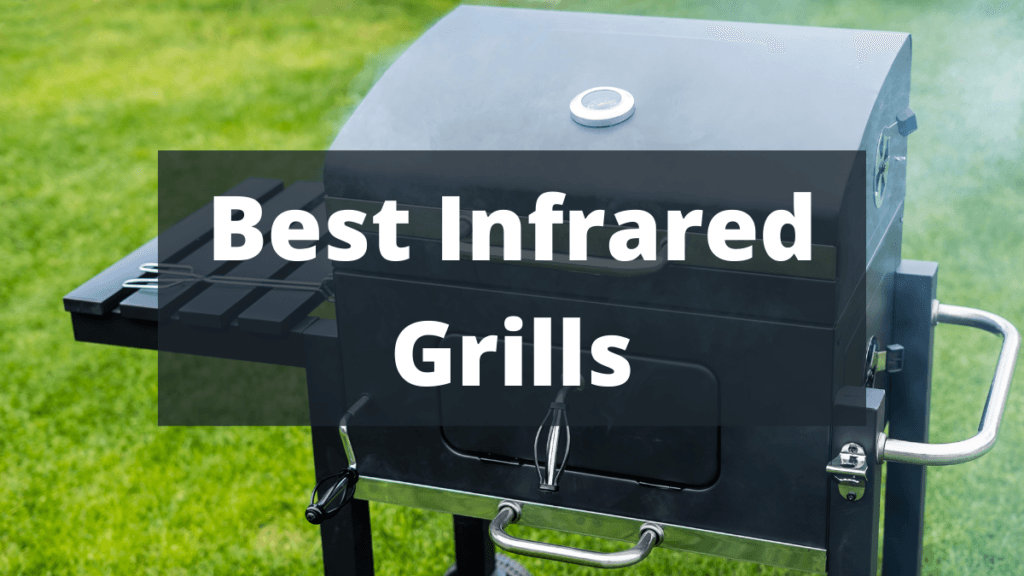 Conventional grilling methods are no longer recommended as technology continues to advance. It would be unjust to ignore the best infrared grills when we discuss technological advancements in BBQ techniques.
Infrared grills use infrared heating techniques that are highly efficient at producing tender, juicy steaks. People prefer them because the heat distribution in these machines is uniform, which means every bite of the meal is going to taste the same.
These grilling devices can generate extreme temperature inside the grill which is helpful for high-end searing. Using infrared technology also results in faster and more reliable cooking.
Best Infrared Grills 2024
Considering the widespread significance of infrared grills, we have decided to come up with a list of the best infrared grills available on the market. After considering lots of relevant factors, we have finally reviewed them below for the convenience of our readers. You can select the one that best matches your needs and grilling requirements.
In a hurry? Have a look at the handy comparison chart for a quick overview.
| Image | Product | Feature | Price |
| --- | --- | --- | --- |
| Top Pick | Char-Broil Infrared 525 4-Burner Cabinet | Surefire Electronic Ignition system, 4 high-quality, stainless steel burners, Suitable for medium-sized families | Check Price |
| | Char-Broil The Big Easy TRU-Infrared & Grill | Highly versatile, Perfect for Thanksgiving turkeys, Crusty texture | Check Price |
| | Magma InfraRed, Gourmet Series Gas Grill | Solid build quality, Highly durable, Choice of sizes | Check Price |
| | Char-Broil 463370719 TRU-Infrared Gas Grill | Stainless steel build, Top-notch infrared cooking, Juicy steaks | Check Price |
| | Napoleon PRO500RSIBPSS-3 Prestige Gas Grill | Best infrared grill for professionals, Foolproof build quality, Cooking space of 900 sq inches | Check Price |
| | GASPRO Infrared Steak Grill | Lightweight, Extensive temperature range, Multiple heat zones | Check Price |
| | Char-Broil Patio Bistro Electric Grill | Bang for the buck, Reliable construction, Ranks 1st in outdoor electric grills on Amazon | Check Price |
| | Solaire SOL-IR8A Infrared Propane Gas Grill | Inexpensive, Reliable heating range, Speedy cooking due to a compact design | Check Price |
Char-Broil is undoubtedly one of the market leaders when it comes to infrared grills. The overall design and functionality of these grills make them stand out from the rest. The company's 525 model offers 525 square inches of primary cooking space and 200 square inches of warming rack. 
The device features a set of 4 burners that can help you cook multiple things in a single go. The presence of a highly efficient Surefire ignition system ensures the grill starts within seconds. It also includes a side burner with a heating capacity of 13000 BTUs. Overall, it is an all-in-one solution for the grilling needs of any family.
Cooking Space 525 Sq Inches
In terms of cooking space, Char-Broil achieved a competitive edge over its competitors. The primary cooking space and warming rack offer 525 and 200 square inches, respectively, so you don't need anything else to cover the grilling needs of a small weekend party. You can try hamburgers, steaks, multiple fish types, oysters, veggies, fruits, hot dogs, and so on. It won't hesitate to bring the best possible flavor and crispy texture.
A highly efficient Surefire electronic ignition system results in the seamless starting of the grill within seconds. All in all, it is a comprehensive infrared grill that meets the grilling needs of the entire family.
Resilience
When it comes to resilience and reliability, no one seems to beat this one from Char-Broil. Everything from high-quality burners to relentless functionality makes it one of the most resilient infrared grills.
You will also notice flexibility in terms of power source options. Conventionally, it supports a propane gas tank. However, there is a conversion kit available to turn it into a natural gas-powered grill.
Excellent Heat Distribution System
One of the key features of infrared grills is that they provide even distribution throughout the grill. But, not everyone works as intended. However, you can trust this 525 version of Char-Broil regarding the uniform placement of heat.
Additionally, the overall design of the cooking grates resists flare-ups in the best way possible. High-quality stainless steel burners ensure users obtain the taste and tenderness they desire from a quality infrared grill. The side burner with a heating capacity of 13,000 BTUs works as a supplementary tool during extensive grilling.
Read Also: How to Light Char-Broil Portable Gas Grill?
The next on our list is another beast from Char-Broil that is second to none when it comes to offering the utmost versatility and operational efficiency. It offers a primary grilling space of 180 sq inches coupled with a 25 lbs capacity for roasting multiple things. Unlike the previous one, newbies will not have any issues cleaning the grill due to its cylindrical design.
The smoking section of the device offers perfect management of temperature. You can easily maintain any temperature level between 9000 and 18000 BTUs. You can also utilize a temperature sensor to monitor the precise temperature suitable for the dish at hand. Moreover, the roasting basket on this grill features a highly ergonomic design that enhances convenience for newbies.
Versatility
Char-Broil's Big Easy is known for its versatility. You can grill, smoke, and cook anything you desire on a single device. There are plenty of cooking options available for users in this regard. The grilling space of 180 sq inches ensures a family meets its weekly grilling needs in summer. Additionally, it is ideal for cooking chicken ribs, vegetables, steaks, turkeys, and so on.
It makes the perfect choice for Thanksgiving turkeys. You will be able to obtain the desired level of tenderness and juicy flavor if you utilize a temperature sensor. In addition, there is a dedicated smoking section for cooking low and slow on this infrared grill. As a result, you will be able to enjoy smoky steaks with a crusty texture on this one.
Excellent Temperature Management
The presence of infrared technology ensures the even distribution of heat throughout the device. For that purpose, however, you need to buy a separate temperature sensor that helps you monitor the internal temperature effectively. You can easily reach the desired level of temperature by closing the lid. However, we would advise you to increase the temperature gradually to avoid any possible risk of burning.
Straightforward Cleaning
The overall cylindrical design of the device facilitates easy cleaning. You can quickly remove the inner stainless steel cylinder for perfect cleaning. As far as cleaning is concerned, use soap and water to achieve the desired level of cleanliness. In addition, using the same method with grease traps will result in a pristine appearance.
However, removing grease from a smoker's basket may not be as simple as cleaning a grease trap. Therefore, be patient while cleaning the smoker to achieve the best results.
Read Also: Stainless Steel Grill Grates Vs Cast Iron: Which is Better?
Gas grills from Magma are also among the best infrared grills on the market. They are highly suitable for users with extensive needs for grilling. Everything from foolproof material to highly efficient, intelligent design makes this device stand out. Additionally, the use of high-quality stainless steel enhances the durability and reliability of the grill.
This model from the Gourmet series features a viewing window made from tempered glass. It means you will not have any issues maintaining the desired temperature due to continuous monitoring through the window. Moreover, this grill offers a wide variety of power options, allowing users to choose either propane, CNG, or LPG according to their convenience.
Top-Notch Combustion System
The grill also features one of the best combustion systems that helps with the even distribution of heat throughout the grill. The rounded edges prevent you from accidental risk during the continuous hustle of grilling. Additionally, you will commend the working of folding legs that are convenient for easy transportation.
There are multiple sizes available. You can choose one that is more convenient for your needs. The 9*18 version makes the perfect choice for picnics and outdoor grilling. While other bigger versions such as 12*18 are suitable for household grilling.
Durability
The extensive use of genuine stainless steel throughout the body translates into a highly durable and reliable infrared grill. The company utilizes marine-grade steel to enhance the capacity and operational efficiency of the grill. As a result, you can expect this device to stay for years and years without any hassle.
However, that does not mean you can use it carelessly. To make this device last longer than you expected, you must use it carefully. Although this material is of the highest quality, we suggest you take caution when using it.
Easy Monitoring
Many newbie grillers often find it difficult to continuously monitor what's happening inside the grill. They have to open the lid, again and again, to see progress. However, Magma has developed a solution to solve the problem of frequent lid openings. The provision of a viewing window made of tempered glass has got you covered. To prevent the meat from completely burning out, it provides easy monitoring.
Also Reviewed: 15 best pellet smokers of 2024
The next from Char-Broil boasts an impressive cooking space of 450 sq inches. The best thing about this model is its lightweight design. Regardless of the impressive grilling space, it weighs less than a hundred lbs. With porcelain grates and stainless steel construction, the device offers enhanced corrosion and rust resistance.
It also features a stainless steel build for top-notch durability and reliable performance, making it one of the best stainless steel grills. The porcelain cooking grates are designed for enhanced longevity, as they are rust-resistant and corrosion-resistant. It is also equipped with a rotating warming rack that enhances its functionality.
Perfect for the Average Family
The overall design and functionality of this infrared grill make it one of the perfect choices for an average family of 4 to 6. The provision of a 450 sq inches primary cooking space coupled with a highly efficient warming rack offers a suitable cooking range for the entire family. You can easily prepare juicy chicken breasts, turkeys, and multiple briskets in a single go.
If you are looking to arrange a small dinner for your office colleagues, you have enough space to prepare the meal once you know how to use it efficiently. The presence of small holes in the cooking grates facilitates the efficient management of dripping grease. Overall, it seems like a good option when it comes to meeting the needs of the average family.
Enhanced Convenience
Everything from temperature management to the high-end finish on this infrared frill enhances convenience for users. Quick delivery and an ergonomic package make the grill a pleasure to open. You will notice straps around the package when it arrives, which will help you move the item faster before you start assembling it.
There are no issues on the assembly side either. Anyone with some basic technical know-how can quickly put everything together within an hour. The manual is also straightforward and helps newbies assemble the product easily. In addition, you will appreciate how fast the grill heats up. Before the grill reaches 600 degrees, it only needs some time to preheat on high.
Ideal for Replacing Existing Grills
People in need of a replacement often have some basic DIY skills on how to get the most out of any grill. Considering this, if you are looking to replace an old worn-out grill, then the 525 from Char-Broil is the perfect option to consider. It works for everything, including steak, multiple fish roasts, ribs, burgers, pineapple widgets, and many more.
The availability of a high-end infrared mechanism is an added plus that helps in the hassle-free management of the grill. Grill maintenance is easy thanks to the seamless operation of the grill.
Read Also: Difference Between Grilling, Barbecue, and Smoking
The next on our list is the beast from Napoleon. The build quality and total cooking space of this infrared grill make it the best infrared grill for professionals. It offers a total cooking space of 900 sq inches with a cumulative heating capacity of 80,000 BTUs. there is plenty of storage capacity inside the cabinet, and highly efficient caster wheels help in easy movement.
Made for Professionals
The overall design and working capacity of this massive gas grill from Napoleon makes it the perfect choice for professionals. Made of high-quality stainless steel, this grill is built to last. Everything from extensive cooking space to massive heating capacity makes this device stand out.
Moreover, it packs an adequate amount of safety features for professionals for enhanced safety during extensive grilling
Innovative Features
This grill contains several innovative features that are hard to find in other contemporary gas grills. For example, having interior lighting allows you to prepare meals properly at night or when it is cloudy. Marinades and other drinks remain cold for longer because of the cooling mechanism.
Additionally, you will admire the presence of a bottle opener and the temperature guide that helps you monitor the temperature effectively.
Read Also: How To Smoke on a Charcoal Grill?
Gaspro's infrared grill makes the perfect choice for people who are looking for an extremely lightweight grilling solution. It weighs less than 20 lbs and can reach over a thousand degrees within minutes.
The 6 notches inside the grill serve as multiple heat zones for a variety of grilling items, including meat, vegetables, seafood, and other related things. Additionally, the ergonomic front panel is highly versatile and helps users in many ways.
Minimalist Design
The reason behind the popularity of this infrared grill is its compact size and minimalist design. This machine does what it is designed to do with no unnecessary additions. The entire cooking cabinet weighs less than 20 lbs and is super easy to transport.
Having a compact shape does not mean there would be a negative impact on the heating capacity. Instead, it reaches as high as 1500 degrees within minutes.
Perfect for Steaks
If you are a family of two or three and looking for a perfect grill for steaks, this one might be the best match for you. Steak tastes like a high-end restaurant because of its unique internal design and top-notch build quality. However, you can cook only one steak at a time. For a family of three, that's fine. Moreover, if you want a super crispy steak, keep a minimum distance from the top rack.
Read Also: How to grill frozen corn on the cob?
Char-Broil is one of the industry's leading infrared grilling devices, as I've already mentioned. The company's devices are known for their operational efficiency, affordability, and efficient working capacity.
Similarly, this electric grill is ranked 1st in outdoor electric grills on Amazon. Let's find out how it is different from other products.
Environmental Friendly
Gone are the days when you had to rely solely on charcoal and gasoline to power outdoor grills. Electric grills are highly efficient devices that eliminate the need for charcoal and other conventional power sources that release high quantities of carbon into the environment. As a result, you can shift to this electronic grill that does not release any carbon, as nothing is burned in this case.
Not only that but an electronic grill is economical and requires fewer maintenance expenses.
Value for Money
If you are looking for an infrared grill that provides a high value for your money, you may consider buying this one from Char-Broil. Regardless of the lower price tag, the grill offers impressive features such as solid build quality, easy temperature adjustment, a removable warming rack, consistent control, and many other related things.
Also Reviewed: 6 Best Z Grills & Smokers for 2024
The last one on our list is the top-notch device from Solaire. The total cooking space on this grill is 48 sq inches with a v-shaped grate. The overall design and build quality of the grill enhances its capacity to eliminate flare-ups and provide an even distribution of heat throughout the grill.
This is another compact grill on our list of the best infrared grills, and it weighs only 9 lbs. All in all, it is an excellent grilling option for those with limited grilling needs.
Excellent Heat Buildup
Don't let the small size of the grill fool you into thinking it may have heating problems. Instead, the overall efficient design of the grill facilitates quicker heat buildup that exceeds the user's expectations. Like any other top-notch infrared grill, it gets to its maximum heating range within minutes and gets the job done.
Cooking Capacity
We find it pertinent to mention here the details of things that you can cook in a single go. Regardless of the smaller cooking space, it lets you cook multiple hot dogs, hamburgers, a Ribeye steak, a couple of chicken breasts, and fillets, besides handling nearly a dozen crunchy wings.
Check out these 10 best propane grills under $500 in 2024!
Before diving into factors that can help you make a perfect choice, we find it pertinent to discuss some details about infrared grills.
What Are Infrared Grills? Do They Make Any Difference?
The sole difference between infrared grills and other conventional means of grilling is how the heat gets transferred. In these grills, the cooking mechanism of the device changes heat into infrared radiation that cooks the food.
Does it seem a little complicated to you? We can certainly attempt to understand this phenomenon in a more straightforward manner.
Using a conventional grill to cook food means the heat itself cooks the food. Heat directly cooks the food without being converted into any other form. However, that is not the case with infrared grills.
In these devices, heat itself does not cook the food directly. Instead, it transforms into electromagnetic waves that cook food.
Okay, I understand the process now. How does it benefit me?
It is a common question everyone asks after he understands the difference between two different forms of grills. Well, there are huge differences between the two in terms of benefits.
Infrared grills have two obvious advantages: They provide an even distribution of heat throughout the grill with no chance of flare-ups. Secondly, the intensity of heat generated through an infrared mechanism is incredible. In other words, you will be able to prepare food more quickly and efficiently.
Additionally, infrared grills are extremely easy to maintain, in comparison to conventional grills.
Now let's return to our main topic, which is the factors that contribute to making good choices.
Points to consider before buying the best infrared grills
The following are the things that you can consider before buying any infrared grill of your choice:
1. Cooking Space
Determining the desired cooking space is the first thing you need to do in this regard. One thing that can help you decide on the cooking space is the grilling requirements of your family. A large family with many friends can go for as high as 900 sq inches.
However, families consisting of three to four members can rely on any device with a cooking space between 400 and 500 square inches.
2. Power Source
Everyone has their own preferred choice of fueling the infrared grills. You can select from a wide range of options.
Charcoal and gasoline are the most common and conventional means of energy source for infrared grills. 
You can also go for grills that use electricity or natural gas for their operation. In the end, it all comes down to the personal preferences of users.
3. Ease of Transportation
Last but not least, ease of mobility and transportation also matter a lot in determining the success of an infrared grill purchase. We have included devices of multiple sizes, dimensions, and weights to help our readers select the best one that matches their needs.
In this comprehensive guide, we have covered many aspects of the best infrared grills. For more information about our two top picks, you can read our remarks below.
Char-Broil Infrared 525 4-Burner Cabinet is the overall best infrared grill. 525-square-inch primary cooking space is available along with a 200-square-inch warming rack in the 525 model. So you can try hamburgers, steaks, a variety of fish, oysters, vegetables, fruits, hot dogs, and so forth. You can expect it to serve you with the best flavor and texture.
Char-Broil The Big Easy TRU-Infrared & Grill is the runner-up. The grill has 180 square inches of primary grilling space and a 25-pound capacity for roasting. Moreover, the grill also features an ergonomic roasting basket that's easy to use by beginners.
Char-Broil Patio Bistro Electric Grill provides a high value for money. Its lower price tag does not detract from its impressive features when it comes to its solid design, easy temperature adjustment, removable warming rack, consistency control, and many others. Moreover, you can save a lot of money since you won't need to buy gasoline or charcoal to operate the tool.