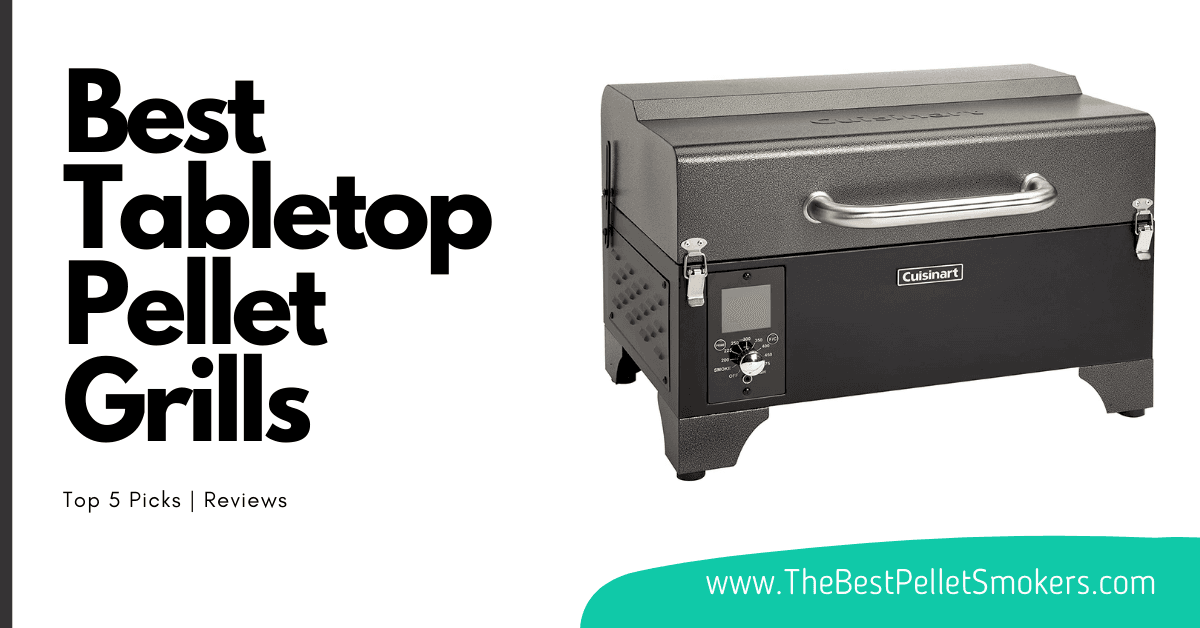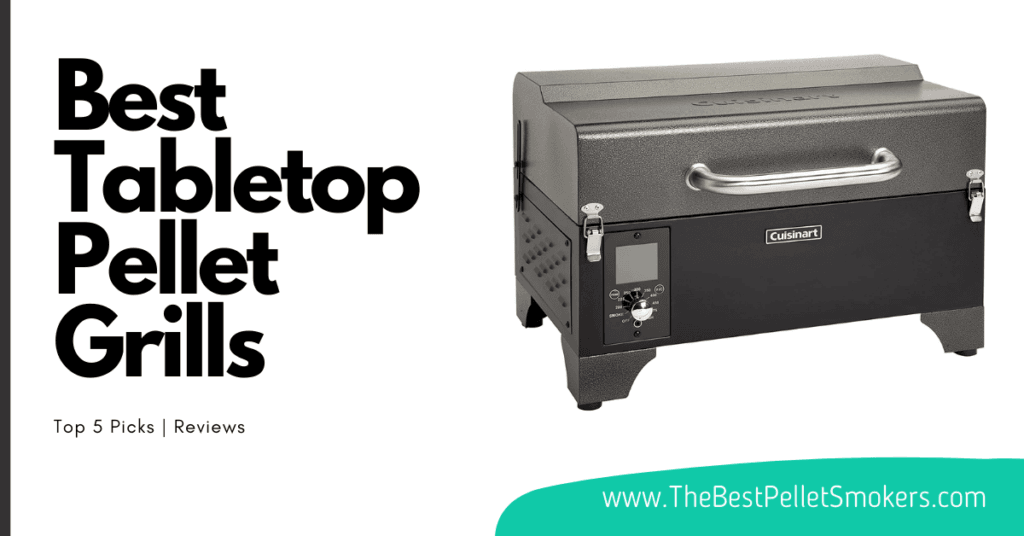 If you love BBQ but don't have a ton of space in your backyard for outdoor cooking, we've got great news. The list of the best tabletop pellet grills is here to make all your summer dreams come true. 
Get the smokey flavor and crispy texture that comes with smoking ribs or chicken on an open grill without having to spend hours tending to it and cleaning up afterward. Thanks to its digital controls and easy cleanup features, these small appliances can give you restaurant-quality results right at home.
Tabletop grills bring the versatility and utility of a full-size barbecue to your table. They're made to suit any cooking surface that's big enough and stable enough to support the weight, which isn't complicated given how small these units are.
Plus, they're super portable grills so you can take them anywhere from tailgating parties, camping trips, or even picnics in the park (with an extension cord). So get ready for some delicious smoked meat this season with one of these top picks!
5 Best tabletop Pellet Grills
We have compiled a comprehensive list of the best tabletop pellet grills available on the market. After analyzing a wide array of choices against quality, reliability, build quality, value, and lots of other parameters, the following 5 models outperform their competitors in every aspect.
Let's take a closer look at each of them!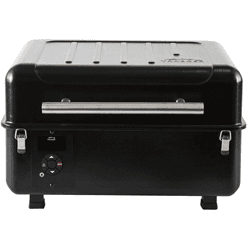 Traeger's Ranger is the overall best tabletop grill available on the market. If you're looking for a tabletop barbecue with all the features of a quality smokehouse, look no further. It is suitable for travelers, especially for those who travel in RVs.
It has an 184-square-inch cooking surface so that you can feed the whole family. This Traeger grill is rugged stainless steel and has an intricate lid design with snaps to keep it safe during transport.
In addition, it offers features that make other Traeger models popular, such as a digital arc controller that allows you to manage the temperature and maintain a consistent temperature. Keep warm mode keeps food warm at a steady temperature until you're ready to eat it.
Convenience Redefined!
The Traeger Ranger is the perfect grill for anyone who loves to cook with lots of conveniences. It's easy to use and has features that make it even more versatile, so you can have your favorite foods whenever you want them. You can easily switch from smoking low and slow to searing at high heat without adjusting anything on the grill itself. Plus, it looks great in any backyard.
This smoker is made with premium materials like stainless steel and cast iron, which means this will last a lifetime of grilling adventures.
This is one of those products where customers say things like "I wish I had bought this sooner" or "This product changed my life" because they love how much easier their lives are now that they have it in their homes. If you want something that will make grilling simple, convenient, and delicious
Digital Arc Controller
Traeger's new "Digital Arc Controller" allows you to manage grill temperatures more precisely. As a result, Grillers of all skill levels can produce precisely cooked meals using 5-degree increments and a temperature probe. You can also utilize the control panel to use the grill as a warming tray, keeping the meal warm until you're ready to serve it.
184 Square Inches of Cooking Area
It provides you with 184 square inches of cooking area. You can grill steaks, prepare colorful kabobs, and serve your favorite breakfasts, lunches, and feasts on a spacious patio. The cast iron grill is not only excellent to cook on, but it's also simple to clean. After cooking on this griddle, you might not want to return to a fire pit or propane-fueled grill.
Read Also: Weber vs Traeger: Who is the Winner?
In our opinion, for campers or anybody wishing to add wood-fired smokiness to their outdoor grilled dishes, the Traeger Ranger is a fantastic choice. It's not exactly light at 60 pounds, but it's small enough to fit in the trunk of your car.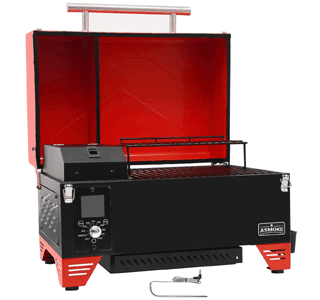 The Asmoke Pellet Grill is a new, portable pellet grill with many of the features of higher-priced brand-name models, but at a significantly lower cost when you factor in their accessories. The AS300 is well-made, giving it a solid and long-lasting solution for anyone seeking a tabletop pellet smoker.
It just takes seconds to set up, the PID temperature controller maintains a steady temperature, and the color LED panel with an attached meat probe makes it simple to use. In addition, it has a 256-square-inch cooking area and a 4-pound pellet hopper capacity.
Grilling Performance
One of the fascinating features of the SMOKE AS300, from our perspective, is that it can also grill over an open flame! You heard me right! When you want to cook a steak, you don't just turn the heat up to the highest setting and hope for the best. Instead, a perforated heat deflector plate may be slid open to switch to direct flame mode.
So, while the AS300's maximum temperature is 500 °F, you can grill much hotter over a real, wood-fired flame. And the outcomes are just what you'd expect. Crispy skin, moist interior, and enough flavor without being ruined by propane or charcoal.
The AS300 even heats up to its maximum temperature faster than you'd expect.
256 Square Inches of Cooking Space
It features a generous 256 square inches of cooking space, thanks to the double rack design. To get an idea, the AS300 can hold around eight burgers, one decent chicken, or one rack of ribs (cut into halves).
So, depending on your appetite, you can feed up to a family of four! The pellet hopper has a capacity of 4 pounds. And, while it doesn't quite measure up to full-sized portable pellet smokers, it's perfect for a briefcase design.
Read Also: Are copper grill mats safe? An in-depth exploration
In our opinion, the Asmoke AS300 is a perfect choice if you're looking for a portable, tabletop pellet smoker that's reliable, easy to operate, and produces excellent results. You can smoke, bake, broil with a wide temperature range and the ability to grill over an open, wood-fired flame.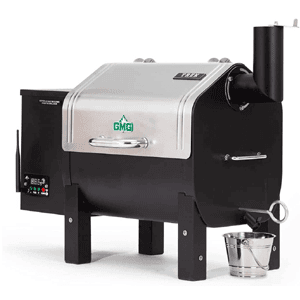 This green mountain pellet grill is a family-sized digital pellet grill smoker with WiFi management. It's built to go wherever you go, from its lightweight design to its various high-tech functions. This model comes with three power options, so you can choose the one that best suits your situation.
Thanks to the WiFi capability, you can still enjoy your vacation, day out, or function without having to sit and babysit the grill. In addition, it has adequate capacity to feed 4 to 6 people.
Portability
Because this grill is intended to be used as a portable smoker, its primary function is to be portable and easy to use. It may not be as light as a portable BBQ, but at 57 pounds, it is one of the lightest smoker and grill combos available without a doubt.
When you consider that this is a proper smoker and grill, not a half-hearted one like other portable options, it's pretty astounding. The Davy Crockett's convenience may be summed up as a portable barbecue that can transform into a dedicated grill once you arrive at your destination.
Optimal Fuel Feeding System
The venturi design (tiny vertical vents) used in the pellet firebox causes the airflow to spiral and transfer heat evenly around the firepot for maximum heat dispersion. This guarantees that all of the pellets are consumed, and the amount of ash produced is minimal.
This, together with the hopper's optimistic air pressure fan, creates pressure to boost circulation through the pellets, preventing burn-back from the firepit and any fires within the hopper. In addition, the chimney vent has been added to this system, allowing you to entirely modify the opening, which you can utilize to help with temperature management.
Read Also: Traeger vs Green Mountain: Which is the best?
In our opinion, if you enjoy grilled food, mainly smoked grilled cuisine, and wish you could eat it wherever you went, this Green Mountain grill is for you.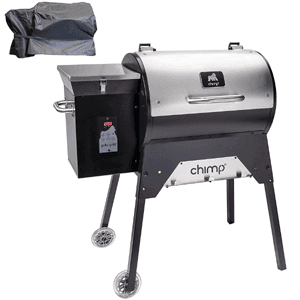 The Grilla Grills Chimp is ideal for anyone looking for a high-quality, low-cost tabletop smoker. The Chimp is exceptionally well-built, with stainless steel internal components, lid, grates, and double-wall insulation, especially for a portable smoker, which is when you need the most fantastic durability.
460 square inches of cooking space and a 15-pound pellet hopper give you options with the Chimp controller. For precise automatic temperature control, use the PID mode. The wide temperature range lets you cook just about any way you'd like.
High-Quality Build
Grilla Grills takes excellent pleasure in the high-quality construction of their grills. It is made of heavy-duty steel with stainless steel internal components and covers. In addition, it has three layers of weather protection: welded seams, powder coating, and caulking.
The stainless steel grates are the most durable and rust-resistant option. Grilla Grills has employed stainless steel instead of standard steel where a pellet smoker needs it the most, ensuring that the entire device lasts longer than the competition. This includes both the cooking chamber and the hopper lids.
460 Square Inches of Cooking area
A total of 460 square inches of cooking space is available on the Chimp. It's divided into two racks, with the bottom taking up 340 square inches and the top taking up only 120 square inches.
When you're preparing something that requires more height, you may remove the top rack. However, throwing an extra rack of ribs or some veggies on top of the compact portable variant truly maximizes the area.
The internal blower fan performs a beautiful job of circulating the heat within, so no matter which grates you use, you'll get about the same temperature.
15-Pound Hopper Capacity
The Chimp's hopper can contain up to 15 pounds of pellets at any given time. For a tabletop model, it's pretty generous. While it won't fit a whole 20-pound bag, it will provide you with a solid 10-15 hours of smoking time. That's more than enough for on-the-go smoking. And you won't have to replenish it for the majority of what you'll want to do at home.
Read Also: How to smoke cheese on a Pellet Grill?
In our opinion, The Grilla Grills Chimp is ideal for anyone from beginners to experienced users. It has well built stainless steel components and a heap of valuable features like WiFi and a dual temperature controller. It's durable, easy to use, and it turns out reliably incredible results.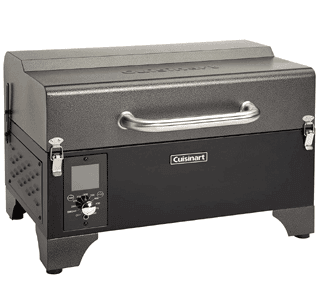 The Cuisinart CPG-256 is an automated grill and smoker that makes it simple to cook and smoke meat. To use it, fill the 15-pound hopper with separately available wood pellets. After that, you plug it into a standard 110 domestic outlet. Moreover, it has 256 square inches of cooking area.
A built-in electric ignition mechanism comes standard on the Cuisinart CPG-256. Turn it on and adjust the digital display to the desired temperature. An automated internal auger will then transport a precisely calibrated amount of wood pellets to a dedicated fire pot beneath the main cooking area.
Moreover, a small internal fan supplies oxygen to the fire and guarantees that heat and smoke rise to cook the food above it.
Grilling Performance
The Cuisinart CPG-256, like most wood pellet grills, is quite adaptable. It can grill, smoke, and even bake virtually competition-level barbecue. It even tastes great on pizza with a smokey flavor. You can even use it to braise meat if you add a small pan of water.
The CPG-4000, like all other wood pellet grills, does not use direct heat. This means it can cook a steak, but it won't get the sear marks you're looking for.
Ease of Cleaning
Cleaning the Cuisinart CPG-256 is a breeze. You may toss away the basket that holds a dripping cup. You could use a plastic cup instead. At times, it might be pretty hot. It's better to use an old soup can if you're planning an extended smoke session for anything like a brisket or hog shoulder.
You can gently scrape down the grates with a stiff bristles nylon grill brush, or the grates can be removed and scrubbed if something is persistently caught.
Read Also: How to build a pellet smoker at home?
In our opinion, this grill is simple to assemble and highly user-friendly, making it an excellent alternative for anyone who wants to try pellet cooking but is hesitant about the technology.
Which pellet grill is most reliable?
Every backyard enthusiast and serious outdoor cooking aficionado wants the same thing: a reliable grill that can stand up to high use and give great results. But the question is, which pellet grill is most reliable?
Up until recently, very few grills were designed with the heavy use associated with professional catering in mind, but many manufacturers are now responding to the demand for heavy-duty equipment.
In our opinion, Traeger Grills Ranger and Green Mountain Davy Crockett are the two most reliable options to consider, based on their heavy-duty build and reliable build. With that said, every model has its own pros and cons. Rather than concentrating on a single aspect, the best approach is to take a broader view.
Can a pellet grill replace a gas grill?
Yes, a pellet grill can replace a gas grill for most usages, but there are some limitations.
The most compelling reason to get a pellet grill is that it adds enough flexibility to your cooking that it will make you want to cook more often.
For example, you normally cook steaks on the gas grill outside and then move them into the kitchen to finish the remaining cooking time on the stovetop. You'll be able to keep it on the pellet grill just long enough to sear your steak before moving it out to medium-rare properly.
Since you have very precise temperature control at your fingertips, you can spend all day playing around with different cooking techniques and trying out new recipes.
A pellet grill is a much more convenient way to cook than a gas grill.
The fuel is just as easy to use, but there's no worry about running out of propane or waiting for your pellets to get from the store into your grill. Just plug it in and start cooking. The only thing you need to do is fill the hopper with pellets once in a while.
Furthermore, you don't have to worry about flare-ups or turning the grill on and off every half hour since you're cooking over glowing embers at all times. The temperature control settings are designed for outdoor use anyway, so they'll cook your food just fine at your house.
Can you slow cook a steak on a pellet grill?
Yes, you can slowly cook a steak on a pellet grill. However, it's not as simple as throwing the steak on and letting it go. It takes some preparation and patience–and like most things with grilling and barbecuing, if you're prepared to wait, your patience is rewarded by an amazing steak.
The best part about cooking a steak on a pellet grill is that you can achieve the perfect temperature for your liking, cook it to the point where you have the succulent meat just right, and not over or under it (depending on how patient you are).  
There's no guessing game here; every time you cook a steak on your pellet grill, you'll get the same consistent results time after time. It's perfect for those of us who don't have a lot of experience cooking steaks to the desired level of doneness or for those who want a guaranteed amazing result every time they barbecue.
Check out these special grills for steaks as well.
We have reviewed the best tabletop grills in this comprehensive guide after analyzing lots of potential choices. Every grill on the list offers the quality and convenience that is difficult to find in this price bracket.
We hope the reviews have helped you filter out an appropriate choice for you. However, if you are still confused, you can check the following conclusive remarks about our top pick.
Traeger Grills Ranger is the overall champion on the list. With an unending list of amazing features, this tabletop grill stands out from the crowd.
Do you want a tabletop grill that you can also take along with you on your next camping trip? Look no further if the answer is YES! Traeger Grills Ranger Portable Wood Pellet Grill and Smoker is the solution for you.
This grill is easy to operate, affordable, and doesn't require any gas or charcoal. The best part? It's portable, so you can take it anywhere with ease. With this wood pellet grill, you'll be able to enjoy your favorite grilled foods at home or on the go.
Traeger Grills Ranger Portable Wood Pellet Grill and Smoker is the best all-around tabletop smoker. It fits perfectly in our RV slide-out, has a wonderful quality cast iron griddle, and is the perfect size to take on camping trips or tailgating parties.
You'll also love that there's no mess like other grills because all the ash will get collected in an easy-to-clean tray under your grill. Plus, by using pellets instead of propane or charcoal, you're helping the environment by reducing emissions from traditional grilling methods.
The Ranger is the best tabletop smoker that Traeger has ever made. It offers a host of features that will make your everyday life easier, more enjoyable, and more productive.
With its Digital Arc Controller and reliable cooking mechanism, it's the perfect device for anyone who wants to do more with their grilling experience.
You can even use it as an oven! With its stainless steel build and 184 sq inches of cooking space, this grill will be your go-to for everything from burgers to brisket.
Happy grilling!