Grilling is undoubtedly a stress-relieving habit that helps you enjoy deliciously cooked meats for years. However, one thing that concerns every BBQ enthusiast, like me, is the organization of things involved in BBQing. In particular, knowing how to store grilling tools helps us get the job done in a more professional and convenient manner.
In this guide, I'll be guiding you through the complete organization process of BBQ tools that I've devised from my years working in the barbecue industry.
Let's get started without further ado!
How to Store Grilling Tools?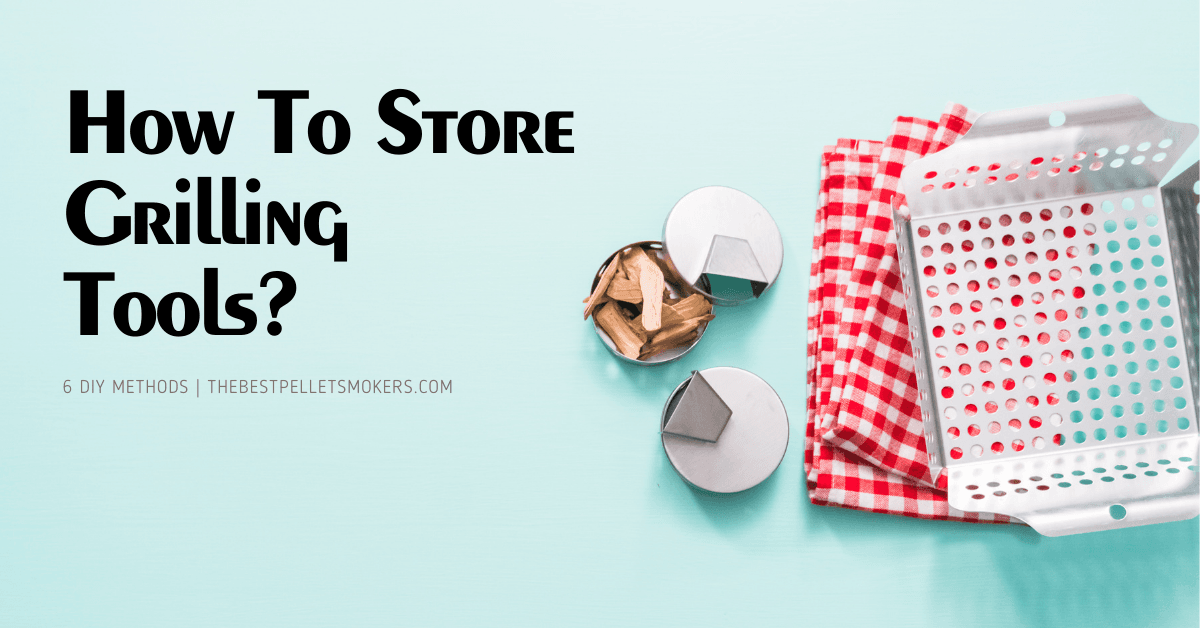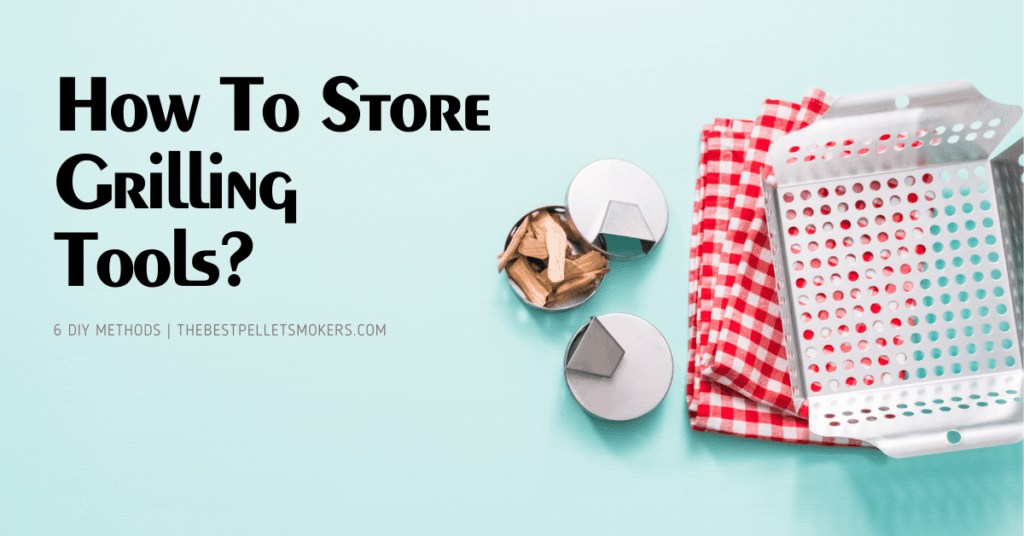 Below are some points to consider when you are on the lookout for an appropriate organizational strategy for your tools:
1. Magnetic Toolholder Is a Lifesaver!
A magnetic toolbar is one of the most admirable grilling tools I've used over the years. It consists of magnets that can help you relocate the tool to the location of your choice. Plus, it comes equipped with highly versatile hooks that can help you store everything from spatulas to tongs in a highly organized way.
What I like most about this tool is its flexibility with regard to where it can be used. Therefore, you can experiment with multiple positions until you find a perfect one that matches your needs.
Check out these 15 best pellet smokers for a perfect BBQ.
2. Use Utility Carts
If you, like me, enjoy extensive grilling sessions throughout the week, you need something bigger than just a magnetic tool holder. Yes, you guessed it right! I'm talking about the utility cart.
I prefer these carts for extensive BBQ sessions for many reasons. First, there is a lot of space that allows you to store all of your station's equipment in a single place.
Second, usually, these carts are mobile, meaning they can accompany you wherever you go. In this way, you won't have to think a million times before planning any outdoor grilling session. Lastly, you can easily install some hooks, and hang some of your tools on these hooks for easy access.
All in all, utility carts are a perfect tool-organization solution for people looking for a complete fix.
3. Panels Can Also Help
If you don't want to go for a magnetic tool holder, utilizing a nearby panel can also get the job done for you. However, you'll have to attach some hooks that are appropriate for your grilling tools.
You might not be able to enjoy flexibility in terms of repositioning the panel. However, the good news is you can attach multiple hooks based on your needs. But, you have to buy these hooks and install them before hanging something on the panel.
Read Also: How to clean a flat top grill?
4. Tool Storage Kit
Utility carts are excellent storage destinations for a variety of BBQ tools. But, what about fragile things such as temperature thermometers? Would you stack them in a cart along with other tougher tools? Don't you think this thing can damage devices like thermometers?
Yes, you answered it correctly. Using an appropriate storage kit is an excellent idea if you don't want to pay for a new tool after each cookout. Get yourself an excellent tool storage kit, and ensure the safety of sensitive tools.
There are many things to consider when you go out to buy a new storage kit. However, I would want you to pay close attention to things such as waterproof exterior, finishing, quality of zippers, and, most importantly, the number of compartments within the kit.
By paying attention to the factors mentioned above, you'd be in a position to buy a storage kit that can last for years.
5. Bar and Basket
Some BBQ professionals also go for a hybrid solution that consists of a bar and basket. Using hooks on the bar, you can hang multiple items. Plus, the availability of the storage basket in the package ensures safe storage for sensitive tools such as the thermometer.
However, I don't like using this solution quite often as I find the tool storage kit more useful than this hybrid system of storing multiple things together. You can go for it if you love trying hybrid things.
6. Buy Yourself a High-Quality BBQ Apron
Ever wondered what makes professional BBQ chefs so quick and accurate? Besides many other things such as years of experience and frequency of work, an apron is what helps them complete their jobs without wasting a second.
It's hard to find a professional chef utilizing things such as mighty utility carts. Instead, they get the most out of their apron. Yes, you heard it right! These professionals buy a BBQ apron that features lots of storage patterns for multiple tools. As a result, they enjoy quicker access to their equipment and complete their process at a great pace.
On the other hand, household chefs usually utilize a single apron for cooking both indoors and outdoors. I also did the same for an initial couple of years until I found a better BBQ apron that saved me a lot of time, and provided quicker access to the tools.
Are you a beginner? No worries! check out these smoking grills for beginners.
Some Effective Tips for Storing Your Grilling Tools
Listed below are some additional tips that you need to consider if you want to organize things in your outdoor kitchen like a pro!
Never Mix Your Tools
It is a common practice for newbie BBQ enthusiasts to utilize a single set of tools for indoor and outdoor cooking. In my opinion, the idea of using a single utensil set creates a lot of mess as you'll be continuously shifting tools from one place to the other.
Moreover, a typical utensil set used in indoor kitchens does not feature a long-handle design that is necessary to maintain safety when you are BBQing on a grill. That is why it is ideal to use a separate set of tools for indoor and outdoor cooking activities.
Maintenance of Tools is Also Necessary!
Besides storing tools in a safe place, a BBQ enthusiast must ensure regular cleaning of tools. Not only does this practice result in longer-life tools, but it also makes your cooking experience more hygienic. Some tools such as tongs, spatulas, etc. require cleaning after every use. 
Therefore, it is ideal to clean your tools properly if you want to avoid the mess in the long run.
Read Also: How to grill safely in the rain?
You Don't Need All the Tools Every Time You Cook!
In the BBQ circles, there is another misconception about the use of tools. Many people think they have to stack all their grilling tools beside their grill in order to finish their grilling session. However, the reality is somewhat different.
For instance, you won't need a grill basket if you are trying heavy cuts of meat on a particular day. Similarly, if you are preparing stuff for marination, you can get the job done with skewers and other related tools without involving an entire plethora of equipment.
Final Words
BBQ grilling can quickly become a messy workstation job if you do not follow proper guidelines for organizing your tools. I hope this guide has helped you acquire some useful tools and organization hacks that will help you enhance your BBQ adventure.
Don't forget to follow this guide among your BBQ squad if you think it can help them do things in a more professional way.
Never Stop Grilling!