Owning a flat top grill can boost your outdoor cooking experience.
How?
Well, it does not only help you extend your meals variety by introducing items like scrambled eggs and tortillas, but also provides you with the safety of no Fire Flare-ups that usually occur in a traditional grill.
However, there is a tiny liability to the flat top grills. And that is, due to its larger cooking surface in contact with heat and food, it often needs cleaning.
Let's suppose you have one of the best flat-top grills and after some time, you notice that cleaning is needed.
So, what should you do in such a situation?
Clean it. Exactly!
But do you know how to clean a flat top grill?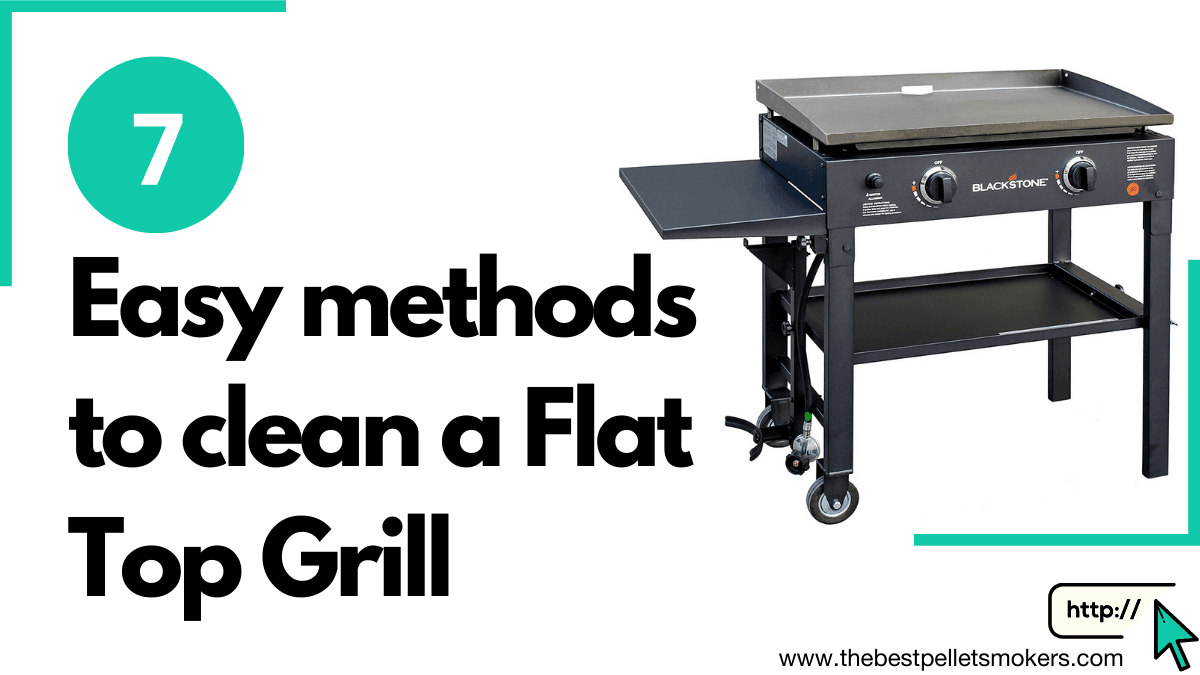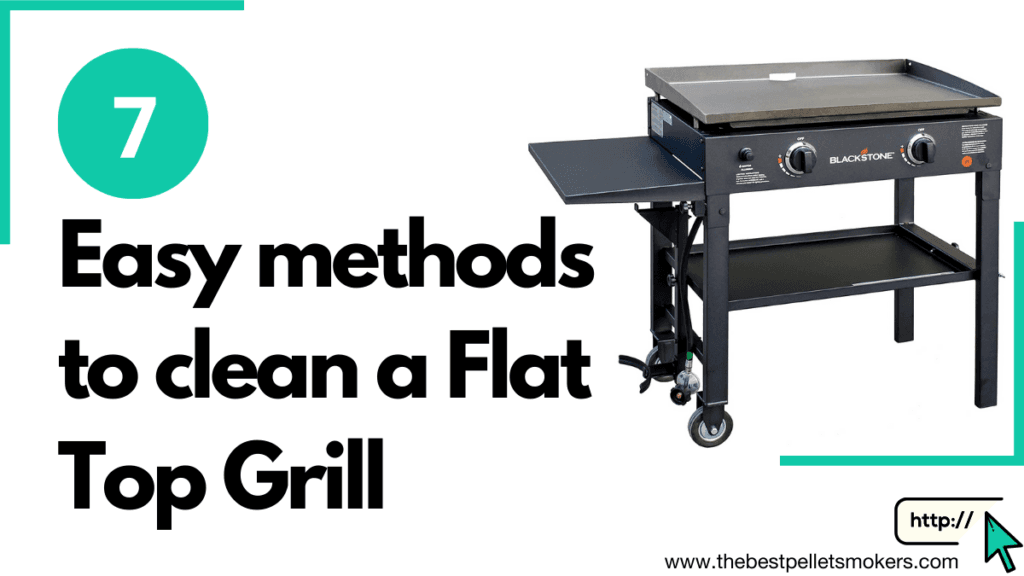 There is nothing to worry about if you don't. Because we have brought an ultimate guide containing 7 wonderful methods to clean a flat top grill.
Take a look!
However, before heading towards the cleaning methods, there are some factors you need to understand.
Let's start with what is a flat top grill.
What is a Flat Top Grill?
A flat-top grill is a cooking appliance like a griddle. However, there is a huge difference between a griddle and a flat-top grill. And that is the shape of the heating source.
Through the circular-shaped heating source, flat-top grills can provide intense heat at an even distribution. Consequently, preparing a wide variety of food is quicker and tastier by adding a smoky flavor.
Read Also: How to make snack sticks in a smoker?
Why Clean a Flat Top Grill?
Regardless of which kind of tool you are using, cleaning is a must. Especially, when you are dealing with a cooking appliance, it becomes even more important.
If we talk about the flat-top grill, we can say that you use a great deal of oil while cooking on a flat-top grill and at a high temperature as well.
So, there are higher chances of some oil getting left and turning into grease gradually, making your next meal contaminated.
Hence, cleaning is very important while using a flat-top grill.
Keep An Eye On The Material Of Your Grill!
Now as you have understood what flat-top grills are and why you should clean them. Now it's time to learn how to clean it properly.
However, the choice of cleaning method should be according to the surface material of your grill.
There are two types of surfaces. One is the chrome top and the second is the stainless steel top. Avoid using harsh methods on chrome top. Unless you will end up damaging the surface.
Check out these 7 Best Reverse Flow Smokers.
7 Ways On How To Clean A Flat Top Grill
Below, you will find the top 7 easiest methods to clean a flat-top grill. Choose any one according to your choice and surface type.
1. Using a Grill Cleaner
This is the easiest way of cleaning a flat-top grill. You will need a grill cleaner and a cloth. Grill cleaner is a solution that comes in a spray bottle.
All you need to do is spray the solution onto the surface of the grill, wait for some time and wipe off all the grease and debris with a cloth.
2. Use Grill Brick
One of the biggest cons of wire brushes is that they can leave scratches on the grill. So, a better alternative is the grill brick. You can easily clean your grill by using the grill brick as a sponge.
Grill bricks are completely non-toxic and do not absorb what they clean.
3. With Lemon Juice
If you are worried because you neither have the grill spray nor the grill brick. Here are some methods you do with common kitchen stuff.
The first is to use lemon juice. The acidic properties of lemon have proven results of the best performance for cleaning everything in the kitchen almost.
Follow the given steps.
Prepare a mixture of one-third lemon juice and two-thirds lukewarm water.
Turn the grill on at a high temperature.
Now gradually spray the mixture on the grill.
Spray the solution as much as it starts making a jelly-like substance with the grease and food debris.
Now turn the grill off and pour the remaining mixture on the grill while it cools down.
At last, drain all the mixture off.
Read Also: How to clean an Electric Smoker?
4. Dishwashing Solution
According to many people, using dishwashing liquid is the best way to clean a flat top grill.
Pour enough dishwashing liquid onto the surface and start rubbing it with a clean sponge. Gradually pour water if needed. Once all the grease and food debris is cleaned, run a second shift of hot water only along with rubbing the sponge to get rid of soap traces, if any.
5. Vinegar and Water
Another way to clean your grill is using vinegar and water.
All you need to do is repeat the process of cleaning the grill with lemon juice and water as mentioned above. However, for this, you will have to take equal amounts of water and vinegar.
6. By Using Onion
Have you ever thought of cleaning a flat top grill with an onion?
Well, it might seem weird but it does work. This does not only clean the grill but also provides a great aroma of onion to your food.
Take a large onion and cut it in half.
Now scrub one of the two halves of onion on the grill surface while it is hot.
It will loosen any of the hard meat stuck on the surface.
We have reviewed: 8 Best Stainless Steel Grills
7. Lemon and Soda
Follow the steps:
Prepare a mixture of four parts soda water and one part lemon juice.
Pour it into a spray bottle.
Now turn the grill on and set it at medium heat.
Then, spray the mixture onto the surface and wait approximately 10 minutes.
After the mixture penetrates the residue, use a cleaning sponge to wipe it off.
Final Words
In this article, we have listed the top 7 ways to clean a flat top grill properly. Hopefully, after reading the whole content you have successfully learned how to clean a flat top grill.
Happy grilling!